Throwing Bombs with Dark Horse
Banner photo Credit: Natsumi Okano
日本語の翻訳
Australia's Dark Horse are once again hitting Japan for Asakusa Death Fest and for a full blown tour! Hot off the release of their latest LP Bomb Thrower, the four horsemen are ready to lay waste to audiences with their aggressive metallic Crust that is now honed like a sharp razor. Tumultuous riffs accompany punk anthems that are palpable enough to get the heart racing. And that's only the record. Though I saw these guys perform the last time they came through for OEFA, after listening to their latest offering I admit to being absolutely stoked to see them perform their new material. Thankfully, their bassist Kieren agreed to do a pre-tour interview with us through messenger to give us the inside scoop on Bomb Thrower and the band.
They're also doing the full tour with America's Death Metal act Invidiosus, who are also joining the lineup for ADF this year! Catch their first show at El Puente this Friday October 27th. And be sure to check out their full tour details at the end of the interview!
---
Kaala: How long did you guys stay here the last time you were here?
Kieren: The other guys just came over for the weekend. I spent an extra week.
Right on. This time you guys will be here for a full week though
Yeah, a full 10 days.
Last time you were here did you go to any other shows?
Last time we only made the OEF shows. Didn't know anything else happening and was pretty tired after the weekend too.
Yeah it was pretty hard to find shows back then. Still is tough if you don't know where to look. So what did you guys think about the Japanese scene at the time?
Well, I've been listening to stuff from there for a long time and it was somewhat of a huge deal to get there. A few friends bands had toured before (Pisschrist, etc) and we had a few bands make it over here too. I was a bit nervous of coming over. There is a bit of a reputation of a closed scene where if you're not well known or invited it's a struggle. We found people to be super friendly and willing to help. Great shows but also just a lot of fun. There have been so many great bands from Japan for so long - no matter what specific genre you're looking at there is someone in Japan doing it and doing it amazingly well!
I agree, people are definitely pretty rad here. Kaala has had a lot of help from so many people and we're really grateful for that.
That's awesome - Kaala is potentially such a great resource. It's fantastic that it is working.
For our readers in Japan who aren't familiar with Dark Horse, can you tell us a bit about how you guys got together?
OK, well - Darkhorse started in about 2011 - originally that was Dennis, Fran, Mano and a guy named Freddo. They were all friends of mine and I went to a lot of their shows. I had previously played in a band called None Remain with Dennis and had played in Vae Victis and Bastardos with Fran. In 2014 they toured Europe and although it was a great tour, when they got back Freddo decided to leave. They had already released the first LP and a split 7" with Black Jesus and were having fun so they decided to keep going and so they asked me to join - Mano switched from Bass to guitar and I took over on Bass. We all have a fairly similar idea of what we want to be doing. We listen to a lot of the same music and are good friends. Since then we have played a shitload of shows, recorded for a split with Inebrious Bastard and finally released the Bomb Thrower LP
Bomb Thrower is absolutely fantastic by the way. Where did you guys record it?
Cheers! I'm so fucking happy with it. You know when you record something there is always ONE thing that you're not happy with, well, I don't have that with this. So - we went down to Melbourne and recorded it over 3 - 4 days at Goat Sound Studio. This was exactly a year ago (AFL grand final weekend) Goatsound is owned and run by Jason Fuller of Blood Duster. We tracked it all on 2" reel to reel and played it pretty much live with just the extra guitar track and vocals added later once it had been bounced down. Was a great process - we had time and the motivation to get it right.
It definitely shows. It has a very full sound and compared to older releases it definitely sounds like you guys have fully come into your own. From the opening note to the end it's filled with raw aggression that's palpable. Given the political climate in the world, is Bomb Thrower a message?
I guess so - it's also a tribute. Most of the lyrics are politically edged to a greater or lesser degree with a few more personal/political ones too. The song Bomb Thrower and the name are in tribute to one of the best bands ever. As for the sound - we really wanted something that sounded closer to our live sound - we wanted it to be loud and full and if there were slight imperfections then so be it - energy is the thing
I'm assuming the tribute is to Bolt Thrower
Indeed. A mutual fav of us all.
Though I never considered the connection until you mentioned it.
Ha ha. Most don't. Lyrically it isn't about them. Just musically.
I get the impression the Australian scene is pretty spread out with Melbourne as the epicenter. In a lot of way it sounds quite similar to the Japanese scene. What's your take on it as an insider?
Yeah - that's pretty much it. There are more bands/venues/involved people in Melbourne but there are things happening in quite a few cities - Brisbane is always great, Perth has amazing bands but not so many venues. A lot of people end up moving to Melbourne cos it's easier. I like Sydney. Always have. Although I live outside it now. The distances here are huge - it takes about 12 hours to drive to Brisbane from Sydney and 9 to Melbourne. Mostly we don't do tours as such but just fly to another city for a weekend to play. There is some rivalry between cities but I don't really buy into it
Yeah I have heard hints of some rivalry, but nothing overt. Always seemed more of friendly riffing on other cities.
Yeah - I guess you get that everywhere
So you guys are going to be doing the first full tour here, who's putting that together?
It's a mix of people. We were trying to work out where we wanted to tour - whether to go back to Europe or not but we had such a great time in Japan last time that we thought that maybe we could do it again. I said that I would do what I could to organize it. I think I came across a little more confident than I actually was cos the other 3 put full trust in me doing it. The first person I approached was Ryohei from Final Exit, SU19b etc. He has put us on the Yokohama show we played last time so I asked if he could help at all. He has been great. He is putting on the Yokohama show again. He also contacted Naru about us playing Asakusa. He also hooked us up with a couple of the other shows. I had also asked Kubine (SxDx) and she/they is putting on the last show of the tour. From there I also talked to Will from Scrotal Vice - an Australian grind band with a strong Japanese connection (he now lives in Osaka) - he introduced me to a guy called James who happned to be over here. He palys in Terrible Joke and works at Hokage. He has organized Osaka, Hiroshima etc for us through local promoters. Basically - we are incredibly fucking lucky that these amazing people have helped us with this. When we came over last time we contacted Curby from OEF who had put us on in Europe and Australia and just said 'we will pay for flights - we don't want any paying or anything, we just want to have fun and he put us on and from there we have met these other great people who are helping us so much.
That's most excellent and a pretty familiar story. There is a lot of reliance on the network to put together tours. What are some bands that you are most looking forward to playing with while you're here?
OK - Self Deconstruction are amazing and I'm so much looking forward to seeing them again. Terror Squad who we played with when they came out here. From bands I haven't seen - Coffins!!!! I can't believe I'm going to get to see them, Senseless Apocalypse and Disgunder in Shizuoka and Palm in Osaka. So many - Contrast Attitude will be great. And then we are doing the whole tour with Invidiosus from the US and so we should get to know them pretty well
I saw Senseless Apocalypse on the Shizouka bill and I'm pretty damn jealous. They don't play out nearly enough, and rarely come to Tokyo. And Self Deconstruction is amazing. Great band, great people.
Yeah - I'm pretty stoked on that. I have a couple of their releases and they are great. SxD is probably in my top 5 current grind bands anywhere in the world
When you were here for OEF, what struck you most about Japan and the scene here?
The fun/silly/crazyness of it all. OK, I know OEF was an international festival and so may have been different but everyone was really out for fun. We played at like 3 in the afternoon and the place was full of people jumping around and enjoying themselves. Didn't seem to be any trouble either which was nice. The quality of the shows was amazing - the bands were great and all but also the organization, the equipment, everything seemed to work so well and I know how fucking hard that can be
OEF was an incredible time! One of the remarkable things about shows here is that there is rarely any violence or altercations. I've seen a few arguments but nothing too serious
That's great. We don't get heaps here anymore but it does happen sometimes. OEF was fucking great. Am I right in saying that Naru was behind that too?
Yes, Naru was the lead organizer of that and did a lot of the work for it. To be honest he's probably one of the hardest working guys in the scene.
I'm very thankful to him for putting us on!
He's also helped Kaala out a lot. We call him the Godfather of Gore.
Ha ha. It's a shame I won't get to see Butcher ABC over there.
So after the Japan tour what's next in the works for Dark Horse?
Well, we have been writing a bunch of new songs which we will record late next year (all going well) - we want to play a lot around Australia next year - there are a few cities we have never been to and some we need to get back to. Then, who knows? Back to Europe maybe?
Nice. You guys seem pretty prolific with song writing
Yeah - Mano, Fran and me all write music so we've usually got a few things on the go
That's awesome to have a good creative working flow going between you guys.
Yeah, it just works well ya' know? It isn't a struggle to make it happen
Alright the required question: Top 5 Japanese bands
Current or all time?
Ohhh good question. How about both?
Going to stick with current in no particular order and acknowledging that I might be coming back to you all night to make changes. SxD, Unholy Grave, Forward, SOB, and Framtid.
All time and not repeating myself (grabbing myself an unofficial top 10) Paintbox, Disclose, The Stalin, The Comes, Judgement, and Lip Cream.
Any last words for our readers?
Thanks heaps to Kaala for helping us out and for being all round rad people. Looking forward to it all. Come and say Hi - we're nice... mostly.
---
Darkhorse and Invidiosus Tour Day 1
Fri, Oct 27 2017
6:30PM - 10PM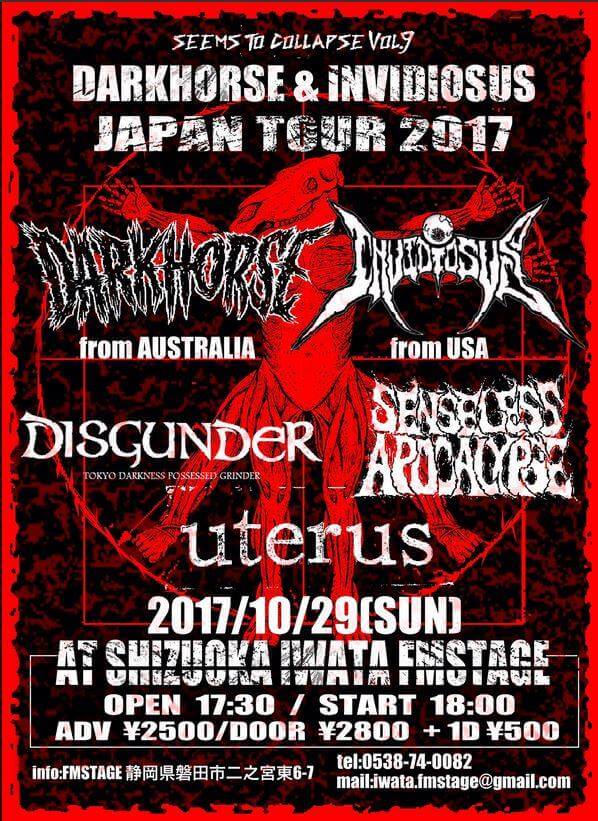 Darkhorse and Invidiosus Tour Day 2
Sun, Oct 29 2017
5:30PM - 10PM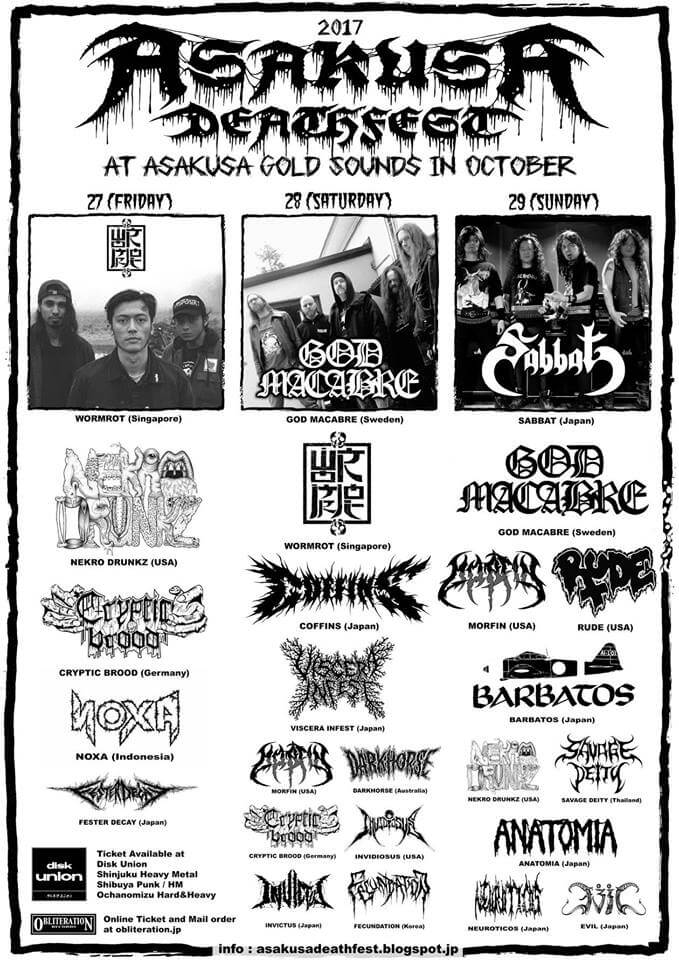 Asakusa Deathfest 2017 Day 2
Sat, Oct 28 2017
1PM - 10:30PM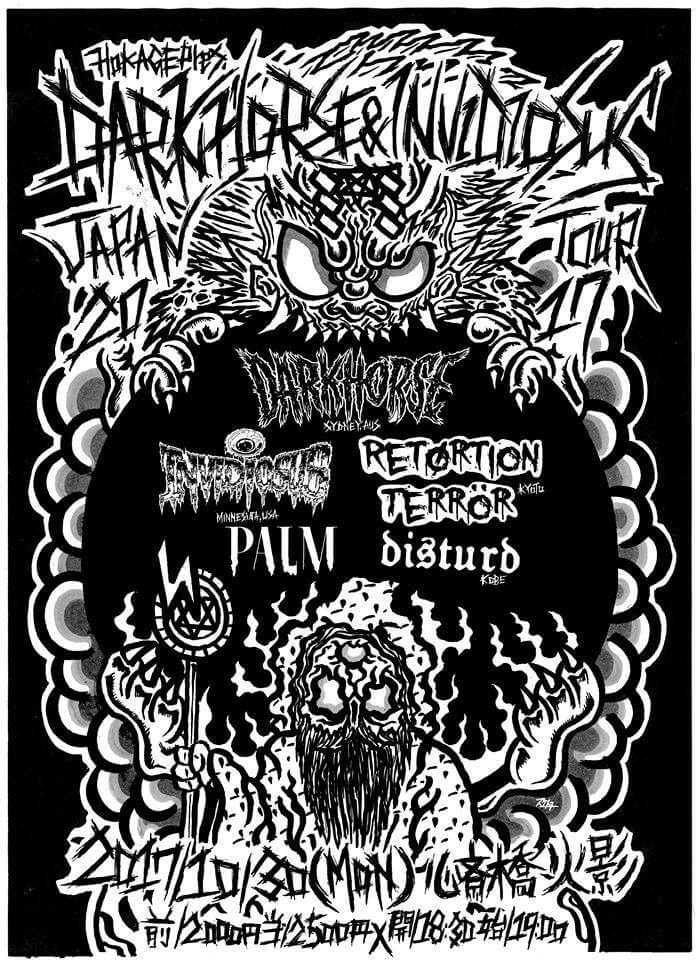 Darkhorse and Invidiosus Tour Day 4
Mon, Oct 30 2017
6:30PM - 10PM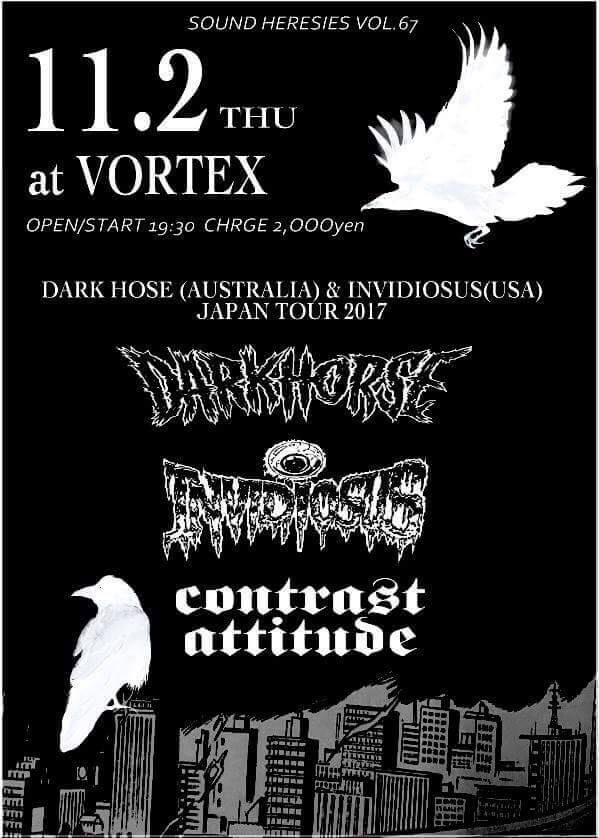 Darkhorse and Invidiosus Tour Day 5
Thu, Nov 2 2017
7:30PM - 10PM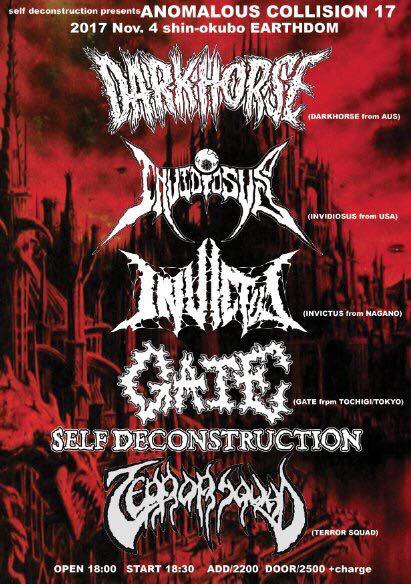 Darkhorse and Invidiosus Tour Day 7
Sat, Nov 4 2017
6PM - 10PM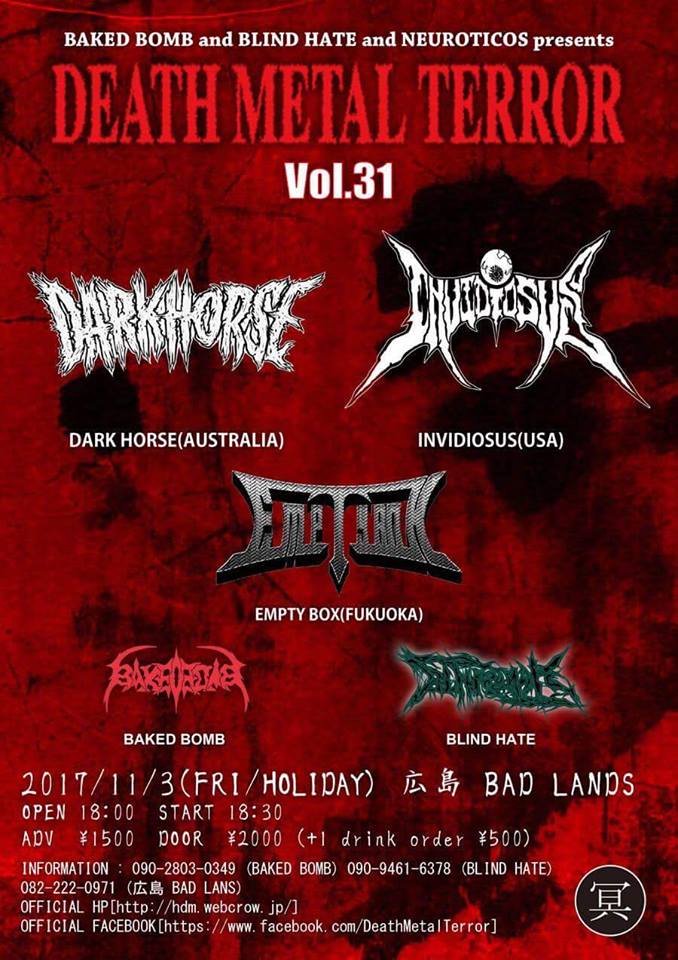 Darkhorse and Invidiosus Tour Day 6
Fri, Nov 3 2017
6PM - 10PM