Besatt and Furia: 3 Days of Occult Rituals
As a black metal fan born and raised in Norway I was surprised when I discovered the Japanese black metal scene. Not surprised because of a slight difference in the musical expression or sound compared to the bands I grew up listening to, but because of how few black metal bands there were in the scene. Compare the number of black metal bands to how many grindcore or hardcore bands there are, and it's easy to get a bit lonely when your craving for Darkthrone, Blut Aus Nord or Mysticum kicks in. Sure, world class acts like Cataplexy, Funeral Sutra and SSORC play gigs now and then, but as a Black Metal fan I tend to keep an eye out for when foreign bands announce tours in Japan.
This is why I'm happy to announce that from September 8th and through the weekend until the 10th, Japan will host 3 gigs with two of Poland's best examples of underground darkness and esoteric spirituality, namely Besatt and Furia. The first stop on the tour will be in the heart of Northern evil itself, Sendai, where local bands Begräbnis, Fatal Desolation and Metamayukujira will show their respect to their European guests at Sendai Birdland. The next day will bring a dark cloud over Tokyo, as the tour continues at Earthdom, Tokyo. Fatal Desolation will once again be there as support, and together with the Ibaraki band Combine and Yvonxhe> from Osaka they will make sure to draw everybody down into despair with them. The tour ends on Sunday 10th in Osaka, at the Socore Factory. This final ritual with Besatt and Furia will be supported by Inferno Requiem from Taiwan, Pterion from Kyoto and Pure from Nagano.
All in all, this should be a no-brainer for any fans of the darker side of the underground music scene, and will also showcase some of the more unknown bands in the scene as a whole. Kaala is looking forward to introduce you to Lucifer himself in the pit, so leave your loved ones behind for the weekend and join us for some introspective darkness.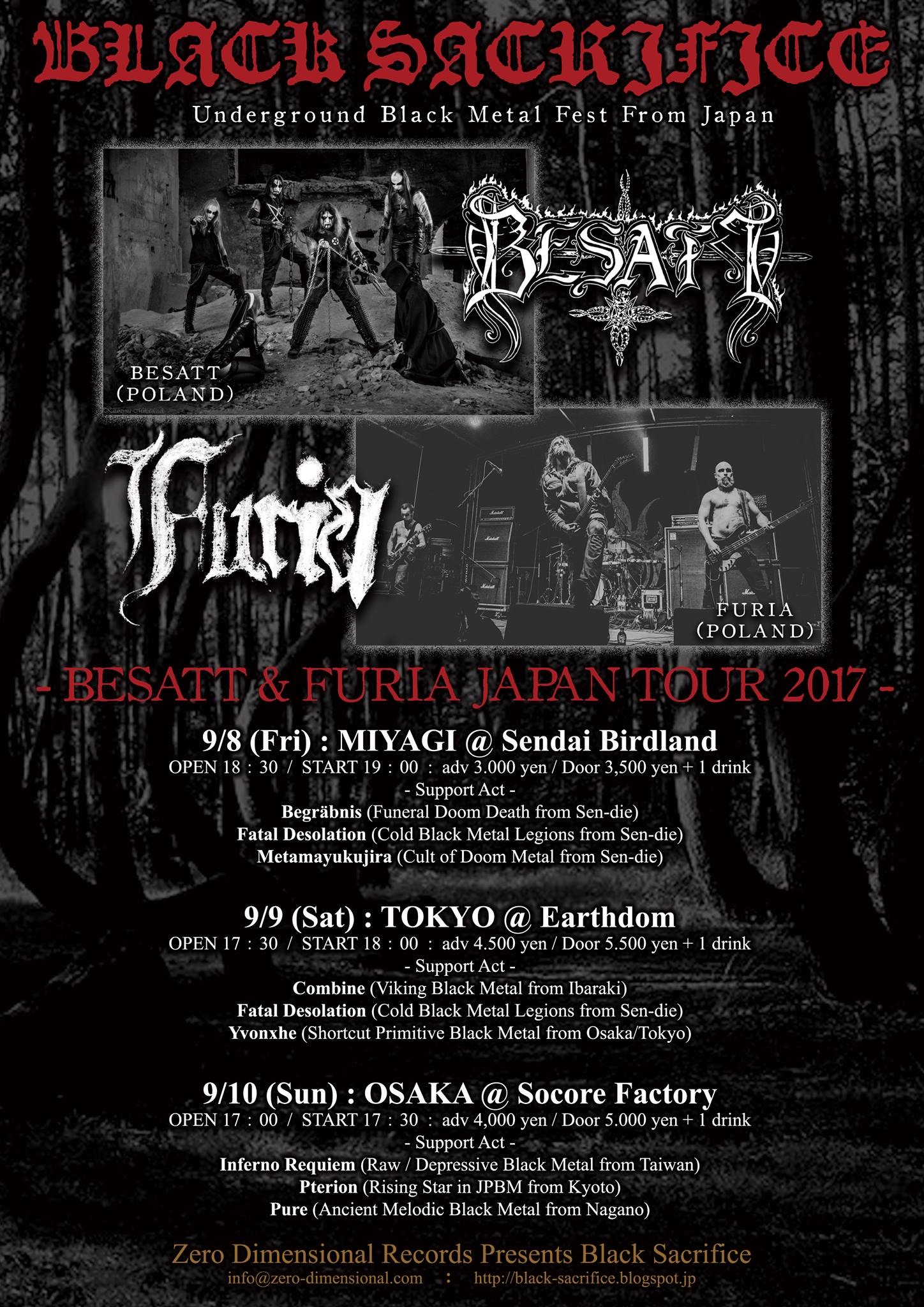 Besatt and Furia Tour Day 1
Fri, Sep 8 2017
6:30PM - 10PM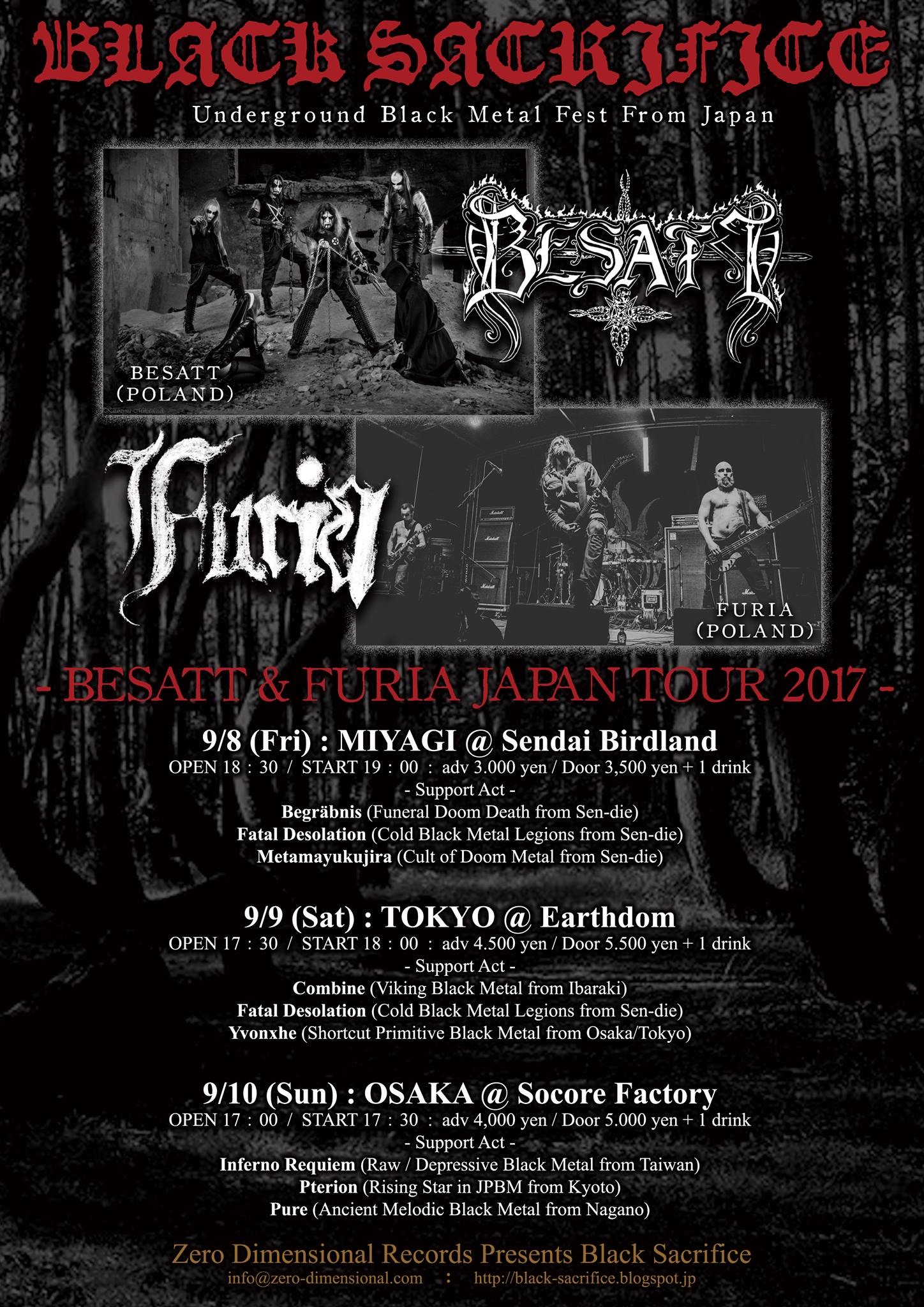 Besatt and Furia Tour Day 2
Sat, Sep 9 2017
5:30PM - 10PM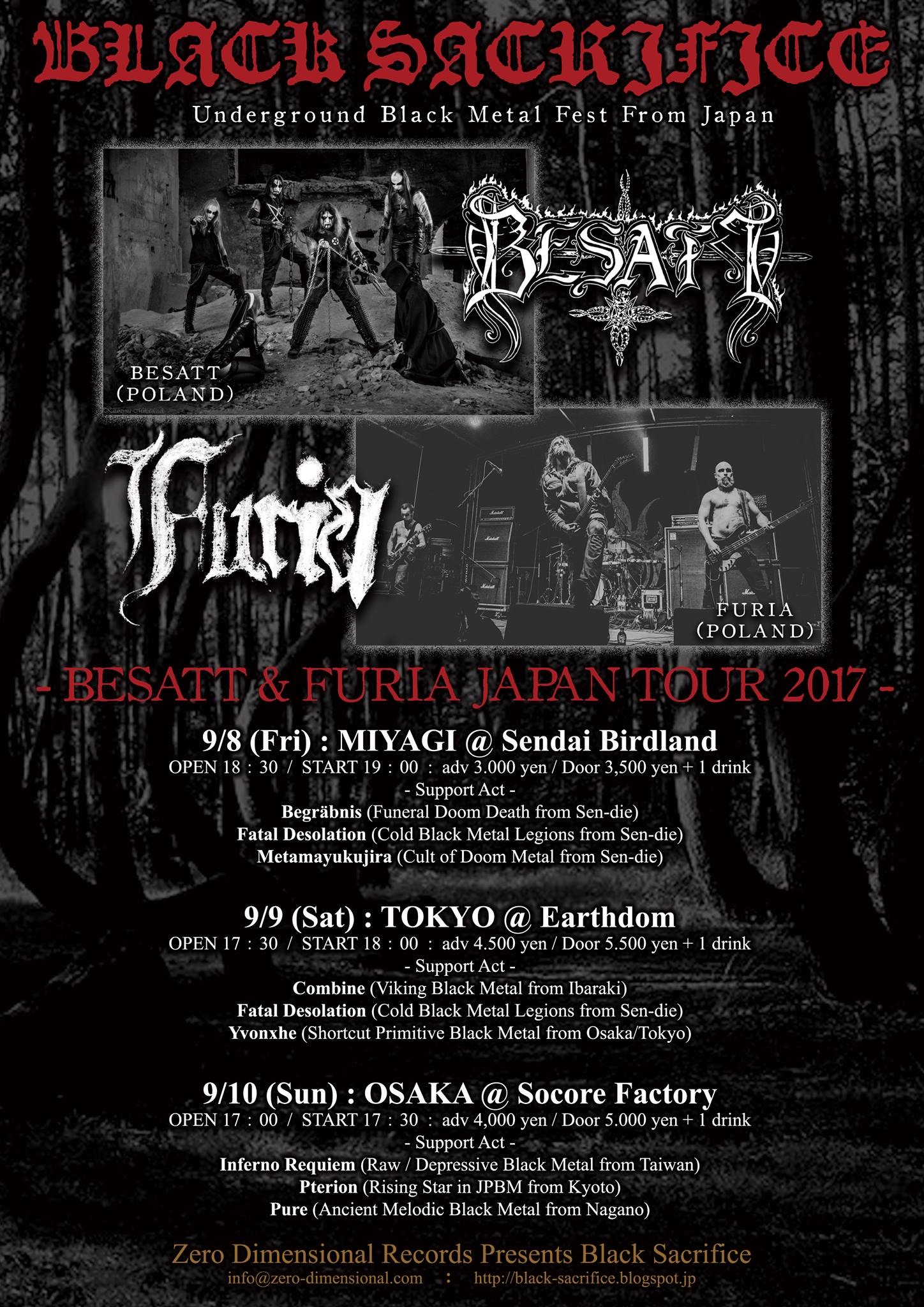 Besatt and Furia Tour Day 3
Sun, Sep 10 2017
5PM - 10PM