News From the Pit: August 2017
Well it's about that time again. This month's news column will be a bit shorter than the last few, but it's still chock full of updates!
To kick it off this month, the Kaala Sleuth would like to welcome both Daigo(Go-Zen, Anal Volcano, GxFxFx) and Adam (Disrotted) to the crew. Daigo has long been haunting the podcast recordings and has now joined up to assist us in translations. More Japanese content to come!
Adam recently moved to Japan and will be taken over the podcast as soon as he's settled. In addition he'll be writing articles and doing interviews as well. So expect even more quality and frequent content coming out in the near future.
The Tower was a lot of fun last month (Anatomia played the most filthy and doomy set I've seen to date), but it's only the beginning! This Saturday we're heading to El Puente once again for the first installment of Yokohama Slaughterhaus. Whether you're into party-goregrind, Carcass worship, or Technical Death Metal, you're bound to have a great time. We know we will! Check out the full lineup below.
In addition, dates and bands have been firmed up for the Lizzard Wizzard tour. Be sure to check the tour announcement page for all the details.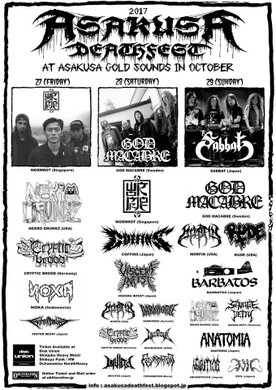 ---
Upcoming Tours and Concerts
Asakusa DeathFest's lineup has been finalized and tickets are now available to purchase. This is going to be a helluva' weekend. I for one am amped to see Dark Horse again alongside Viscera Infest and Wormrot. Be sure to head over the Official Website to pick up tickets. See you guys there!
Melbourne's Gloom Lords SUNDR are in Japan at the moment. Be sure to check them out while they're still in town. You can get the full details of the tour as well as read an interview with Scott here.
But that's not all! Full of Hell is hitting Japan's shores later this month with The Body and will be joined by the Tokyo based Grind/Powerviolence act Friendship! Be sure to check the Kaalendar for dates and lineups.
---
Releases
This month we only have a few album release announcements. First, Catasexual Urge Motivation's Necronicle Continues Vol. 4 : Necrotronica has finally landed on Bizarre Leprous. I listened to a few promotional tracks off of this one and it's incredible. Previously unreleased material that has everything we love about CUM but mixed with some Drone and Libido Airbag influence. Pick up a copy here!
Tokyo's Death Metal Thrashers Necrophile will finally release their first full length, Awakening Those Oppressed after spending decades laying waste to the Japanese underground. Be sure to check it out at Unholy Prophecies' Bandcamp.
---
Gossip and General News
And to conclude this month's column, we've heard on the wind that Adam will be joining forces with Ryohei from Final Exit and a former member of Coffins to start a new Grind project. We have few details so far but the wind did whisper "Caveman Grind" as it passed by. Whatever that means, take from it what you will.
---
Well that concludes this month's News From the Pit. Be sure to check back in next month for more delicious updates and news. If you have any relevant gossip or news, feel free to send it our way!