Doom and Gloom with SUNDR
Banner Photo by Zo Damage
This weekend, Australia's Gloom Lords SUNDR are kicking off their tour of Japan. Delivering brooding and hypnotic Post-Hardcore that wraps the listener in its icy grip, the four-piece have no doubt earned their nickname with their latest release "The Canvas Sea". Their vocalist Scott was kind enough to respond to a quick interview through email with Kaala in anticipation of their tour. Check out the interview and tour dates below, and don't forget to catch them on their tour kicking off this Saturday in Mie!
---
SUNDR has just released The Canvas Sea to the world. It's rife with haunting soundscapes blending in with and between ferocious sections. Can you give our readers a general idea of the creative process involved? Where there any influences, musical or otherwise, that inspired you during writing process?
Sonically, we were definitely inspired by bands like Neurosis, Amenra, Cult Of Luna and As We Draw. We really wanted to capture a live, organic and immersive feel in the production. But when it came to the writing, we really just focused on the hypnotic nature that was developing in the songs as a result of us spending a lot of time jamming together. There was almost a minimalist approach to structuring the songs, and it allowed a a lot of room for us to be creative and let our individual personalities really become exposed, and to channel a lot of stress and anxiety into the music.
In the early stages of developing the songs, we would be sharing basic guitar parts and lines of lyrics to get a definite vibe from the start. A strong theme emerged in the lyrics and the music and we ran with it!
Some sources online have said that you're now referred to as the "Gloom Lords" due to the cathartic and brooding nature of the music and atmospheric live shows. How have you taken to this nickname?
Haha, I think another band came up with that when promoting a local show, it was one of the first shows we played.. We thought it was funny and could be a good addition to the press kit.
Melbourne is known for its rich scene, and quite a few of the people I've met from there are involved in multiple projects. Are any members of SUNDR currently working on any other projects?
Our drummer Dan has an awesome thrash/hardcore band called Iscariot, all the other members are now good friends of ours too.
Troy our guitarist has just recently released an EP for his solo project Cyan Blue, it's something he's been working on in the background for a long time, he engineered it himself too.
While you're in Japan, you'll be sharing the stage with a few hard hitting bands here such as NoLa, Redsheer, and Terror Squad. Do you have a relationship with any of the bands? If so, do you see more tours in the future? Which local bands here are you most excited to play with?
The guys in NoLA were our first point of contact for booking the tour. We've been speaking via emails and messenger for a few months, those guys have made the whole process so easy for us! We have some mutual friends who have toured with NoLA in the last few years so we are all really excited to meet them and play some shows together! The guys in Redsheer and Lifeblood have also been super helpful with booking shows and organizing things. We are blown away by the caliber of bands in Japan, it's pretty daunting, but also inspiring for our first touring experience. Palm are the first Japanese hardcore band I heard and I've been a fan every since, I'm honored to be sharing the stage with those guys! I'm also blown away by the music I've heard from Wombscape, The Donor and Stubborn Father, I can't wait to see them live and meet them all.
And the mandatory question: What are your top 5 Japanese bands?
I'll say Palm again, i remember their song "Rebel without a cause" auto-playing on Youtube after I was watching Converge videos and I've admired that band ever since.
Everyone in the band are big Church Of Misery fans, I was introduced to them by Adam our bass player a few years ago.
Mono are another big inspiration, they are touring here in November which I can't miss.
Envy are another incredible band, so influential in the world of post-metal and post-hardcore today.
And another band from our tour, Wombscape. The world needs to know about that band!
Thanks for the interview! Any last words for our readers here in Japan?
Thank you! We absolutely can't wait to get over there and experience your music culture, I think we will learn a lot and bring a new perspective home with us. Most importantly we can't wait to party with everyone at these shows! See you soon!
---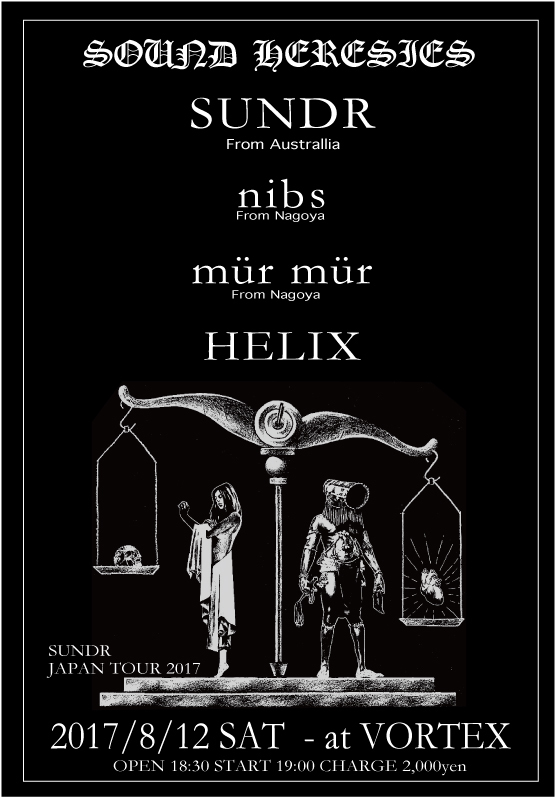 Sundr Tour Day 1 / Sound Heresies
Sat, Aug 12 2017
6:30PM - 10:30PM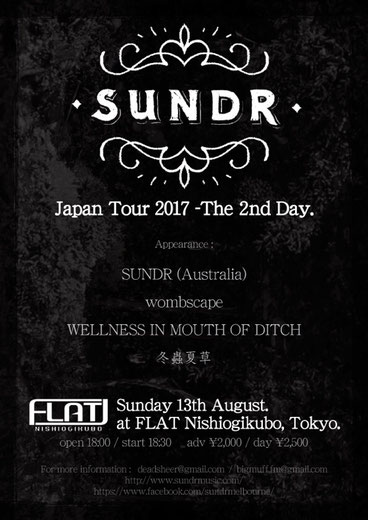 Sundr Tour Day 2
Sun, Aug 13 2017
6PM - 10:30PM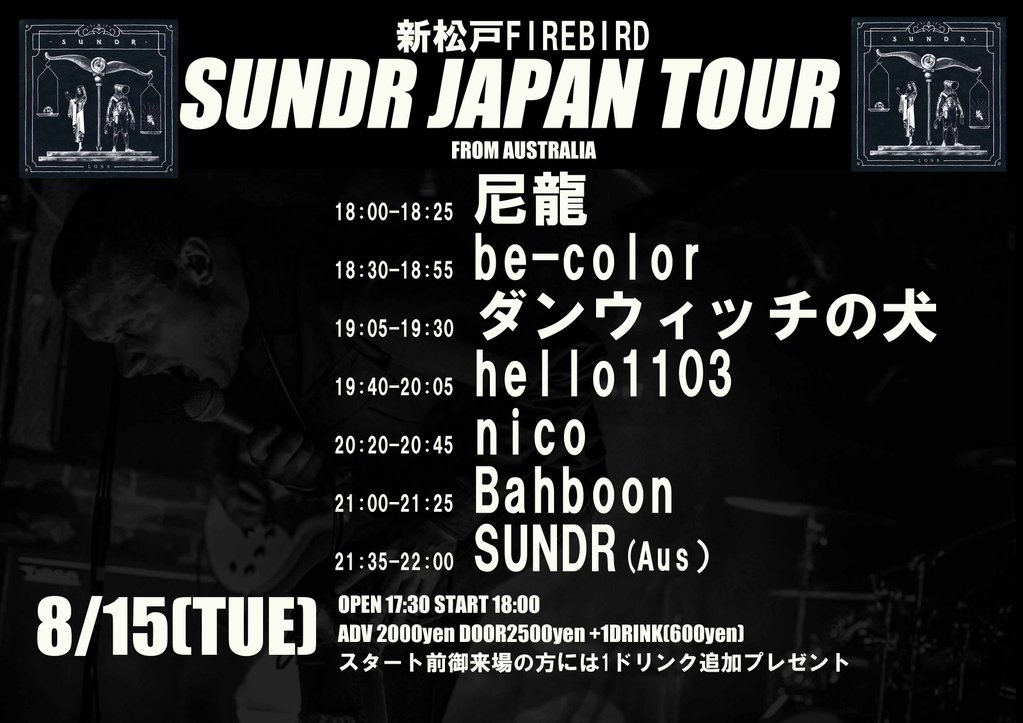 Sundr Tour Day 3
Tue, Aug 15 2017
5:30PM - 10:30PM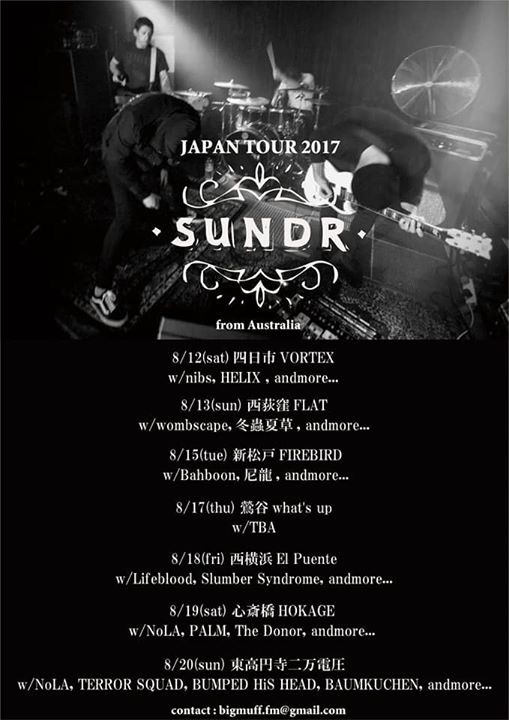 Sundr Tour Day 4
Thu, Aug 17 2017
7PM - 10:30PM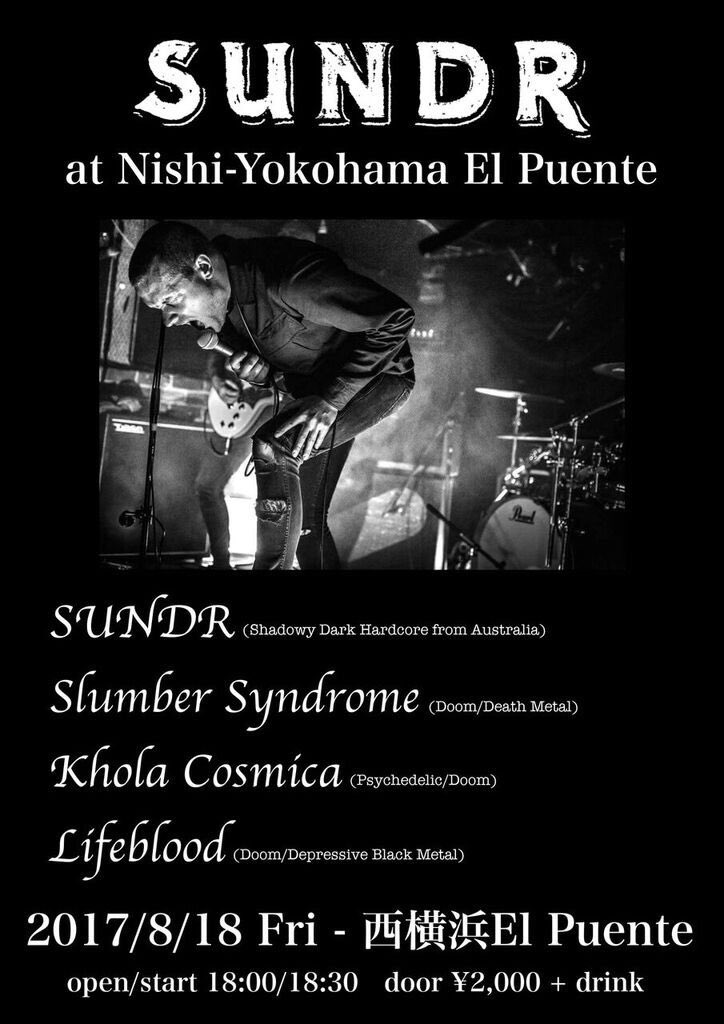 Sundr Tour Day 5
Fri, Aug 18 2017
6PM - 10:30PM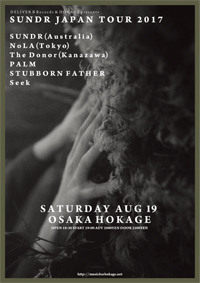 Sundr Tour Day 6
Sat, Aug 19 2017
6:30PM - 10:30PM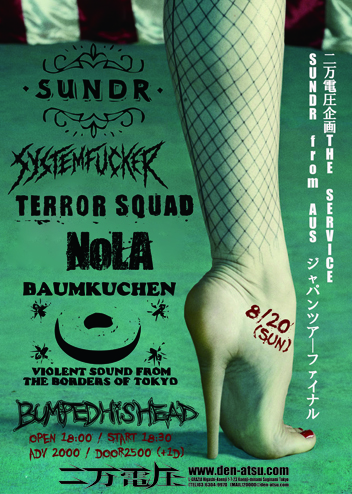 Sundr Tour Day 7 / The Service
Sun, Aug 20 2017
6PM - 10:30PM