Drop to Your Knees and Worship Pain
It's Saturday night and El Puente is packed with sweaty and humid bodies. Shizouka based Black Metal band Fra Hedensk Tid just finished their set of desolate old school Black Metal with some additional bodies to the lineup (the last time I saw them they were a two piece, but now have recruited two new members - and they're much better with a live drummer in my humble opinion). People shuffled back and forth to the bar to get a drink while the next band, Worship Pain, was setting up. Set up took longer than anticipated, as there were some technical difficulties. Attendees enjoyed their beers, lit cigarettes, shared some laughs while waiting in anticipation. Finally, the pedal issues were fixed, and the vocalist, Paul gave everyone a warning, "Just to keep expectations down, we're not a metal band. We're a Rock and Roll Band!" Well to be fair, it was a Metal show.
Given the history of the members of Worship Pain, expectations were high. Half the members, Thom (Drums) and Tom (Bass) are current members of the Death/Black Metal band Retch. While the other half, Paul (Vocals) and Jordan (Guitar) are members of the Black Metal act Funeral Sutra. I spoke to a few friends before the show who hadn't heard the debut EP, Acts of Worship, yet. And indeed they were expecting something Black, but they weren't expecting Blackened Rock.
So last week I got in touch with Paul to talk about how Worship Pain came about. "You get something [like Funeral Sutra] to a certain level, and it requires a certain time commitment to keep it going. And the Sutra songs are complex and took a lot of energy to write and they were stylistically going in a certain direction. So both Jordan and I talked about it and decided we wanted to do something a little different," Paul said before adding that Funeral Sutra isn't done. But as time has gone by, the two have gotten really into the new project, "Like fuck yeah, let's play some Black Rock! Whereas Sutra is a little more serious and took on a life of its own to a degree."
Well that explains Paul and Jordan's side of the story, what about the other half? Though the Funeral Sutra and Retch guys have always been pretty tight with each other (Tom played as second guitarist for Funeral Sutra for their last gig). "I kind of had the original idea for Worship Pain of wanting to do vocals and not play bass, I had never done that before. And I knew I wanted Jordan to play guitar, I want Thom Smith on drums, and I want Tom Giles on bass. That's a good lineup, we're friends, and it's just working out really well."
Though if you take a listen to one of their songs embedded above (go ahead, I'll wait for you), then you might agree with me when I say that I can hear some Hardcore influence in there. When I brought it up, Paul replied, "When we started Worship Pain it was very much by design intended to be a mix of Black Metal and Rock, that's what we were talking about doing. And it ended up feeling more like Blackened Hardcore at spots. But there is definitely a feel where we try to have a rock oriented swing or song structures because that's what we wanted to do from the beginning. So as an element we're continuously coming back to that. So for the vocals, to some degree it's that these are the vocals I can do and we wanted to put together this project that does Rock and Black Metal. So I think it works quite well."
Finally, we discussed how the band works together in the rehearsal studio, "Well basically, Jordan or I come in with something and say this is the song. These are the riffs, this is how it's going to flow. But then each person comes up with their own parts, and the song changes significantly between what we come in with and what we leave with. And it's always an order of magnitude better when we leave than when we come in. So I think everybody plays a meaningful role in the writing."
Well whatever you want to call it, Worship Pain put on a helluva' show Saturday night and not a single person seemed even remotely disappointed that they didn't entirely meet preconceived expectations. Japan has a scene rich with Extreme Music talent, and Worship Pain is taking their talents in a new direction that fills a niche that has yet to be fully explored.
Be sure to check out Worship Pain perform at their EP release show with GUEVNNA and GxFxFx this coming Thursday, July 19th at Ruby Room and at Kaala Presents: The Tower at Moonstep on July 16th.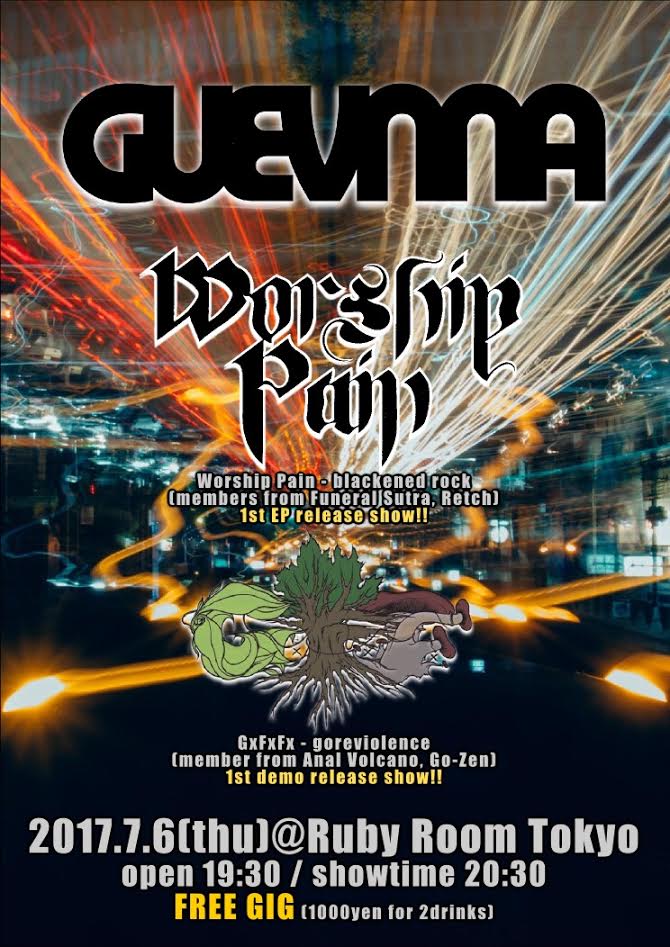 GUEVNNA w/ Worship Pain and GxFxFx
Thu, Jul 6 2017
7:30PM - 10PM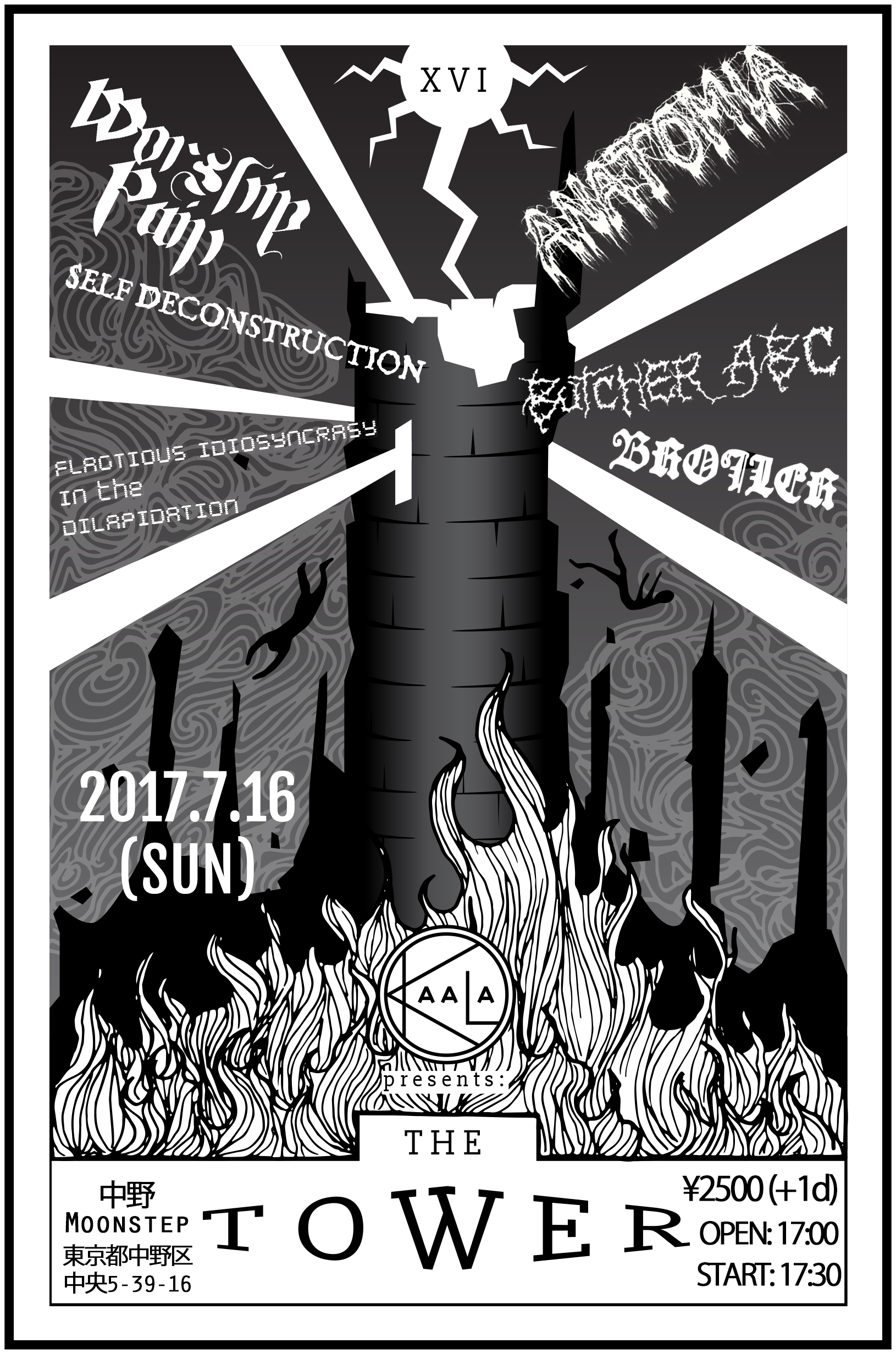 Kaala Presents: The Tower
Sun, Jul 16 2017
5:30PM - 10PM
If you can't make any of the shows, be sure to pick up Acts of Worship on their Bandcamp.