WHO KILLED SPIKEY JACKET? + THE ERECTiONS: STUDS OF BURNING TOUR
Who Killed Spikey Jacket? is one of those bands that every single oi and pogo loving punk really wants to see. As a band, they seem to embody the concentrated black matter of punk. The drums are perfect for pogoing. The bass and guitar are simple, aggressive and catchy. The lyrics are studs, glue and unity. The live show is chaos. What else is there to say? I can't wait for this tour.
Just in time for the tour, Pogo77RECORDS has just put out two WKSJ? releases, Sleepy Time Punks and 50 Years of Punk: The Stud Collection, which includes a bunch of their singles and EPs. I think it might possibly be the only CD release of their self-titled album that isn't a bootleg.
The Erections will be accompanying WKSJ? on their Japanese tour starting with a huge bash at Antiknock in Tokyo on July 9th along with the excellent Oi-SKALL MATES and others. They'll finish up the tour with a two day party again at Antiknock on the 16th and 17th. I'll see you there. Don't forget to bring the watermelon and chickens.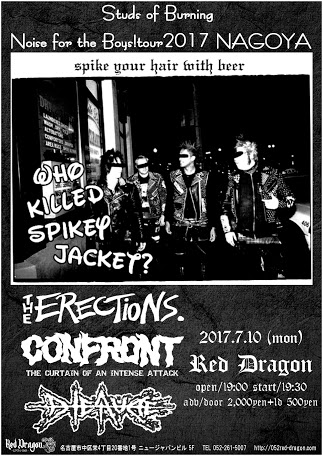 WHO KILLED SPIKEY JACKET? + THE ERECTiONS TOUR 2017 Day 2
Mon, Jul 10 2017
7:30PM - 10:30PM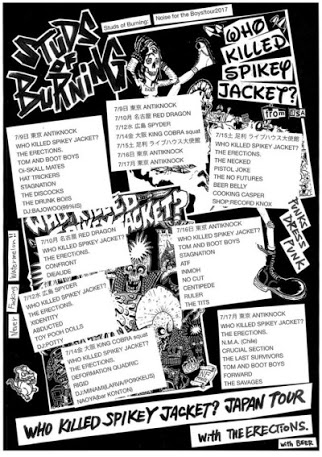 WHO KILLED SPIKEY JACKET? + THE ERECTiONS TOUR 2017 Day 3
Wed, Jul 12 2017
5:30PM - 10:30PM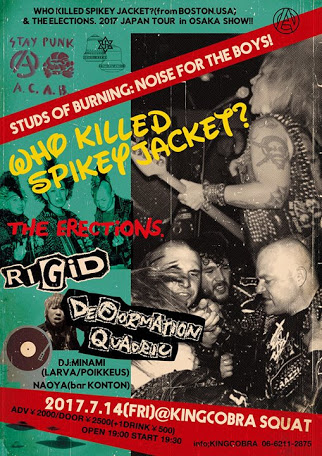 WHO KILLED SPIKEY JACKET? + THE ERECTiONS TOUR 2017 Day 4
Fri, Jul 14 2017
7:30PM - 10:30PM