News From the Pit: June 2017
We're well into the month of June (hell it's almost July) and it's about time again for Kaala's monthly edition of News From the Pit! For those of you who read last month's inaugural edition, you'll remember that this is to highlight any relevant news from the Extreme Music scene here in Japan. It's also an opportunity to let our readers know what the Kaala Sleuth has been up to. If you didn't catch last month's edition, check it out here.
First thing's first, over here at Kaala we've had a few changes. Nothing major. Jordan still lives on my balcony and he's earned washing machine and kitchen privileges by taking over the Weekend Roundup for me as well as returning full force with calendar management and getting some great tour reports written. Everyone buy him a beer or three next time you see him at a show.
Our glorious leader Matt is still in the Evil Empire and has been tirelessly going to shows and binge drinking. But he managed to put together a response to David Hall's "Metal is the Fucking Worst". Those who like to delve into the social aspect of Extreme Music might find both interesting. In addition, he got together and recorded a podcast episode with Joseph and Emily from Invisible Oranges. Check it out and strap in, it's a wild ride!
Meanwhile, we've finalized the lineup for Kaala Presents: The Tower at Nakano Moonstep on July 16th with the addition of Broiler! These guys were one of the first bands I saw in Japan and they put on a crazy show. Their vocalist Kosuke is one of the nicest dudes you can meet, but transforms into a crazed barefoot beast howling at the moon when he performs. Check out the full lineup below, it might be a Sunday night, but the 17th is a National Holiday - SO LET'S RAGE!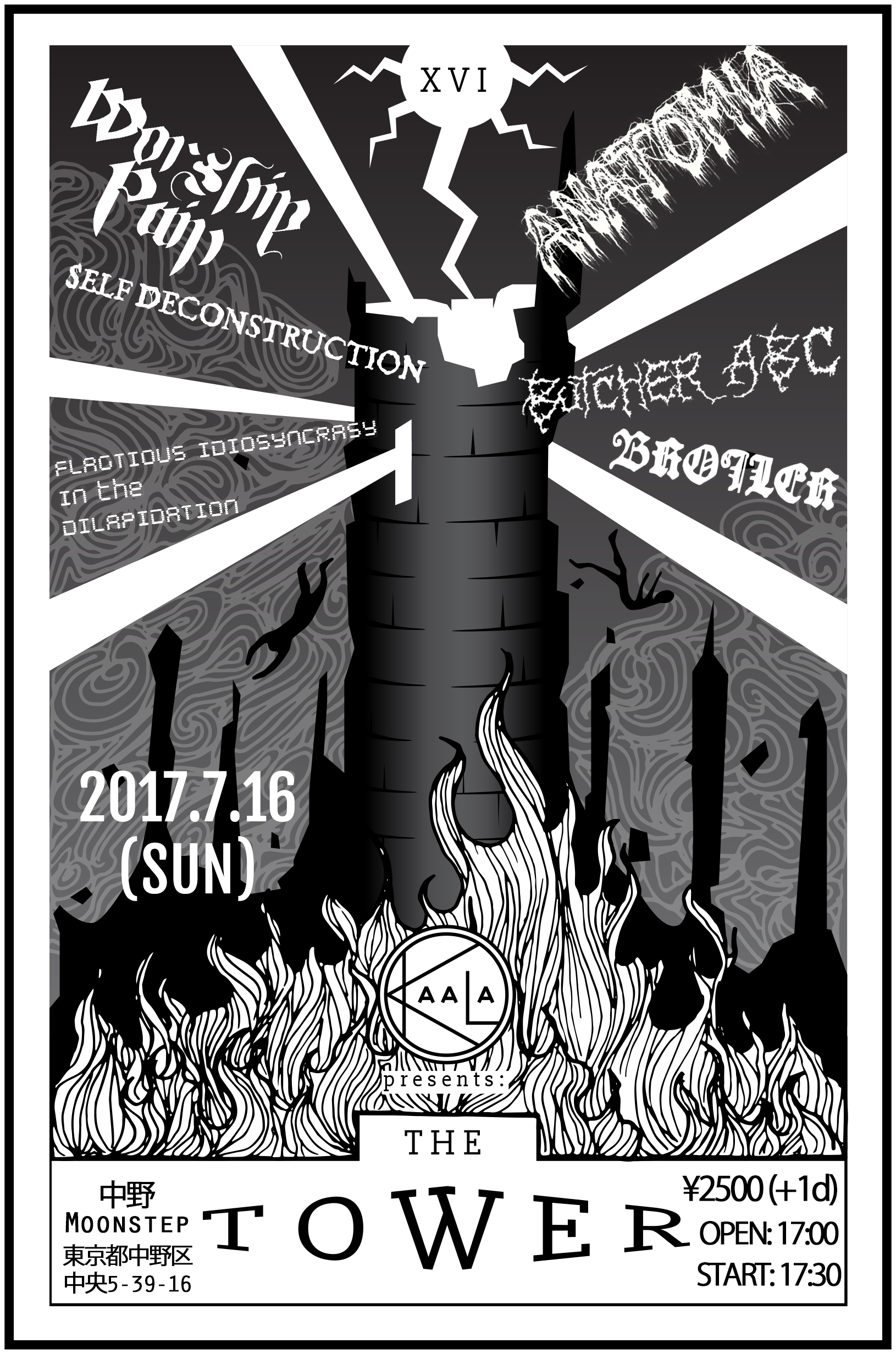 Kaala Presents: The Tower
Sun, Jul 16 2017
5:30PM - 10PM
In addition, we've put together a gruesome lineup at El Puente with Yokohama Slaughterhaus on August 19th with Cry, 注射針混入豚 (Needle Contaminated Pork), Pinworm Puella, and JK肉壺切断 (JKnikutsubou setsudan)! We love El Puente and we love these bands. We're working on getting another band on the lineup, so we'll update you if we do. In any case, lovers of Death Metal and Goregrind are in for a treat with this one. Flyer out soon!
Last bit of Kaala news, we're finalizing the lineups for the shows we're helping put together for Australia's Lizzard Wizzard in September. Check out the full details at the tour announcement here!
---
Upcoming Tours and Concerts
Surprisingly, July is looking pretty quiet in terms of bands coming into Japan. But Pogo Punks Who Killed Spikey Jacket? from the USA are touring with The Erections starting on July 9th! They'll be playing with some awesome local bands, so check out the full tour report here!
In addition, More bands have been added to the Asakusa Death Fest 2017 lineup! Dark Horse(AU), Sabbat, and Viscera Infest are just a few new additions! Get the full lineup at the Asakusa Death Fest official page!
---
Releases
First up, Tom Blood from Catasexual Urge Motivation has some more new material out under the old noise moniker Sadistic Lingam Cult. Joining forces with a split with Mexico's Cannibe and released by Alarma Records, the SLC side is titled Bloodthirsty When I Crave. In addition, more material will be released on a 3-way split tape with Reeking Cross(USA) and Sedem Minut Strachu(Slovakia). We don't have exact release dates confirmed yet, but we expect them to be out before the end of Summer. So keep your eyes peeled!
Speaking of Catasexual Urge Motivation, Nekronicle Continues Vol. 4 is now available for pre-order at Bizarre Leprous. Volume 4 features all previously unreleased material. Brutal and destructive cybergrind at it's finest!
Coming out of Mie Prefecture, the Hardcore Punk band Zay are releasing their first album titled Cry For the Moon. The four-piece has quickly gained ground and have become almost a household name in the underground scene. You can pick up their debut at Disk Union or at the CD release party at Moonstep on July 15th.
Hot off the heels of their release of I and II on Sentient Ruin Laboratories, Grindcore/Powerviolence wrecking crew Friendship has released their latest CD Hatred on Daymare Records. I just saw them the other night with Fight It Out at Flat, and goddamn it was a wild show. It was violently euphoric, and I was sober. Pick up a copy here or head over to their release gig on July 7th.
We've got two more releases for this month. The first is Worship Pain's debut EP. With members of Funeral Sutra and Retch, the four piece has offered up six killer tracks of Hardcore tainted Blackened Rock and Roll. Pick up a copy on their bandcamp or check them out at their release gig with GUEVNNA and GxFxFx on July 6th.
Speaking of which, GxFxFx is also celebrating the release of a four song demo. Since it's my band it would be ridiculous to sing our own praises. But if you're a fan of Powerviolence, Grindcore, and Goregrind, I hope you check it out. Pick up a copy of the demo on our bandcamp or at the gig. See you there!
---
Gossip and General News
We usually don't pedal in rumours and hearsay, but we have it on good authority that Makiko of FID is going to be recording vocals for a new long-distance project with Jasper of Days of Desolation and Infest Art. So far the project is just the two of them, with Makiko on vocals and Jasper writing and recording the music. Keep an eye out for updates as they come!
---
Well that's it for the June edition of News From the Pit. As usual if you have any news that should be in next month's edition, let us know!