Weekend Roundup June 16th - 18th
Hey there, girls and boys! Weekend roundup time once again! All sorts of crazy crap is happening out here lately! We have wild boars on the lam at Kyoto University, grandmothers smuggling gold in their undies, and the Prime Minister is turning Japan into an Orwellian nightmare! Well, it's probably the end times and we are all about to get wiped out by some massive war or what not, but don't worry, there is a shining beacon of hope on the horizon!
That's right! We are a month out from "The Tower," Kaala's latest grindfest! We have a great show lined up for everyone! Some of our favorite bands will be performing at one of our the best venues in Tokyo: Nakano Moonstep! We hope you'll come out to Moonstep on July 16th (Sun) and hang out with us!
The end is extremely fucking nigh so let's party!
Friday
This Friday it's all about Nagoya! Head over to Red Dragon to see FUK, Tetsu Array and one of my all time favorites, Turtle Island start the weekend off right. If you haven't seen Turtle Island before and you are in Aichi, make it out! They're absolutely amazing.
Saturday
If I were you I'd make my way to either Hatsudai Wall or Koiwa Bush Bash this Saturday! It's grind time at Hatsudai Wall featuring Agents of Abhorrence, Gate, Evil, Zagio Evha Dilegj, Hellchild, Asmodeus, and Orgasm Grind Disruption.
Better protect your neck if you roll out to Koiwa Bush Bash, because Fight It Out is having a release gig for their 3rd album, "Most Hated." Tragic Film, Rockcrimaz, Shut Your Mouth, and Second Arms will also be performing. The pit should be pretty violent for this one. Better bring a helmet just in case.
Sunday
GAUZE is putting on another one of their incredible 消毒 gigs this weekend at Anti-Knock along with Extinct Government, Hazard, and Vivisick. I think tickets might still be available for this one, but as with past GAUZE gigs, they go fast. You might want to get to Anti-Knock early to get a ticket.
And last, but not least, Nishi-Ogikubo PitBar is putting on the last of it's third year anniversary gigs! This one has a huge line up! If you like hardcore go check out a sox, Black and White, Crucial Section, Danmush, Falling Down, FASTener, John Doe, Leviasun, and Sutu go belly to the ceiling!
That's it for now, peeps! Have a good one and keep fucking that chicken!
Friday, June 16th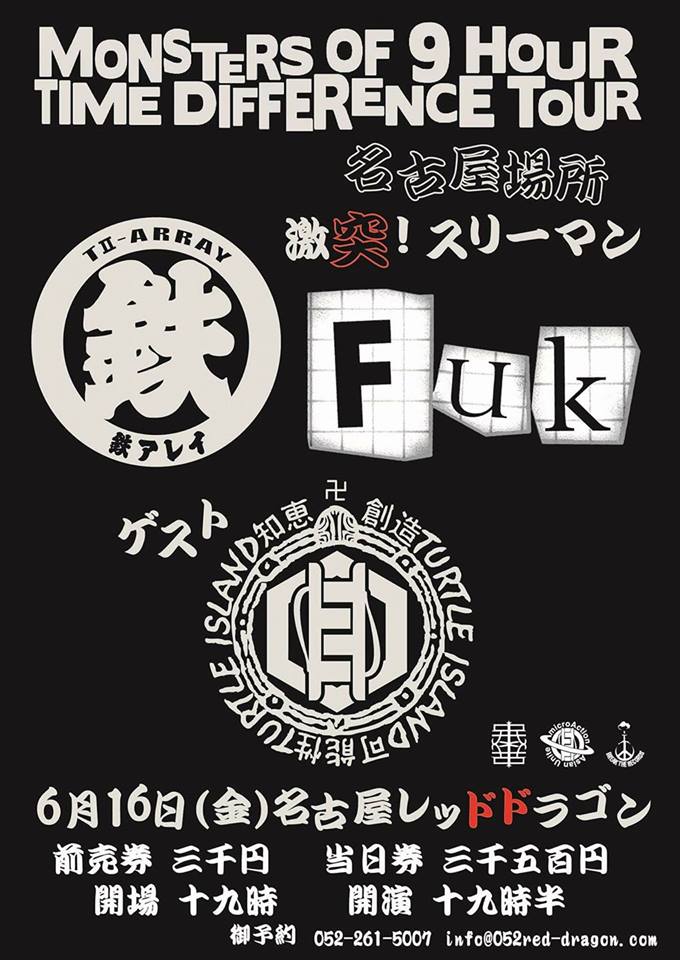 Monsters of 9 Hour Time Difference Tour
Fri, Jun 16 2017
7:30PM - 10:30PM
Saturday, June 17th
Sunday, June 18th