Weekend Roundup June 9th - 11th
On June 5th, 2007, punks from around the world said goodbye to the D-Beat raw punk master, Disclose's Hideki Kawakami. This week marks the 10th anniversary of his passing, but dis-nightmare still continues. I recommend reading this incredibly touching obituary written by Stuart Schrader which appeared in MAXIMUM ROCKNROLL. Many fans also posted tributes to Kawakami on facebook as well as on instagram under the hashtags #disclose and #kawakamiforever. Rest in power.
Friday
Lots of stuff going down in Tokyo on Friday! First up at Nishi-Ogikubo PitBar we have Flying Body Attack vol. 13! Go see Namaste, Napalm Death Is Dead, Sun Children Sun and Sunday Bloody Sunday tear it up. Or how about checking out peace punk band 1981 from Finland at Nakano Moonstep along with Ghettos, 怒鳴(199X), Cheerio and Neighbors.
Saturday
The crusties are spending loud night all weekend at Anti-Knock. Grind The Enemy is a two day crust gig with the biggest names in Japanese crust performing. Check out Contrast Attitude, Ferocious X, Disturd, ULCER, ZyanosE and Unarm on Saturday! Check below for the Sunday line up!
Not into smelly crusties? How about some grind, thrash and metal? Drag yer keister back to PitBar to check out Disaster, Butcher ABC, Another Dimension, Falling Down, Disgunder and Corbata.
Sunday
The crusties rise again to see Framtid, Reality Crisis, DEFUSE, Asocial Terror Fabrication and LIFE tear Anti-Knock down one more time. Finally, if you are out in Nagoya hit up Huck Finn check out the latest installment of the epic grind freaks gigs! As usual, the line up is completely stacked! Zay, Vampillia, Violent Magic Orchestra, Punhalada, Demolition, Abigail and, last, but not least, Unholy Grave hold it down out in Aichi!
I'll be at Anti-Knock all weekend, so if you smell me, say hi!
Friday, June 9th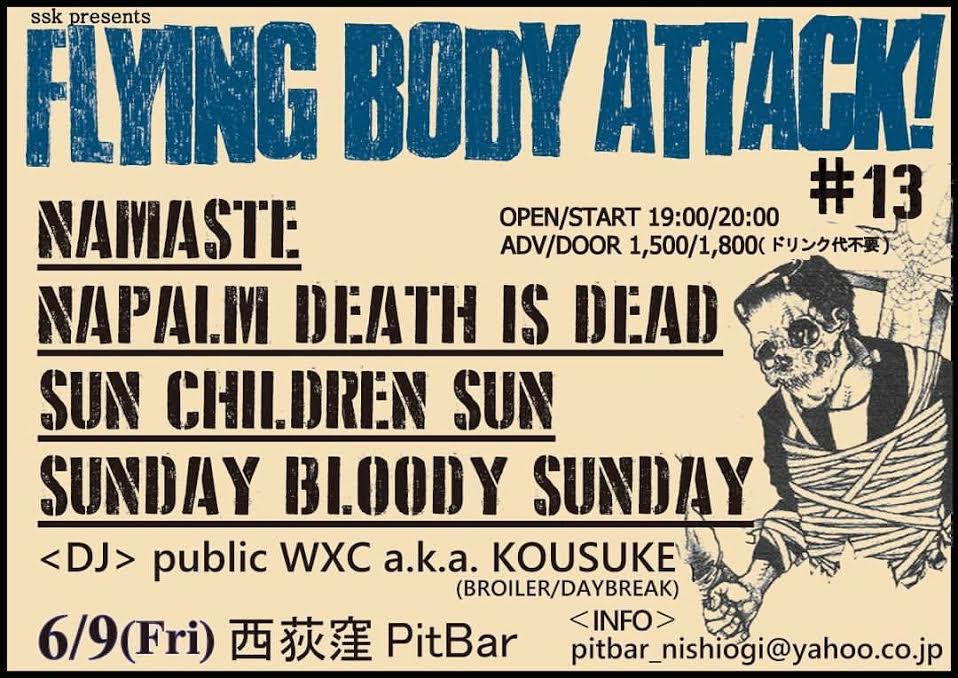 Flying Body Attack Vol. 13
Fri, Jun 9 2017
7PM - 10PM

1981 JAPAN TOUR 2017 Day 1
Fri, Jun 9 2017
7PM - 10:30PM
Saturday, June 10th
Sunday, June 11th