Weekend Roundup June 2nd - 4th
Random Trivia Time! Most people in Japan are probably not aware of the fact, but on this weekend 402 years ago Tokugawa Ieyasu brought all of Japan under his rule by destroying his only competition, the Toyotomi clan, at the siege of Osaka. Ieyasu himself would die almost a year later in 1616. You just united all of Japan under your rule, Ieyasu! What are you going to do now? "Die." Brutal. Remember children: Life's short, party hard. Don't worry though, Kaala is here to help.
Friday
This Friday kicks off with Witches starting their Japan tour at Nagoya Tight Rope with Hate Beyond, Cruel One and Clandestine. SCUMPUTER, a side project of GABBA from CHAOS U.K. and FUK, will be performing at Enoshima Oppa-La. If you haven't been down to Oppa-La before you should make it out for this one! I saw Trash Talk there last September and had a great time. It's an excellent small venue!
Saturday
There is a glut of gigs this Saturday! If you are out in Shiga check out Disgust, Death Stringer and Murdiena at Dance Hall Benihana. If you are out in Nagoya check out Ooze, Smash Your Face, Last, Not A Name Soldiers, Dieaude and one of my favorites CONFRONT at Red Dragon.
Tokyo is also raging at Nishi-Ogikubo PitBar and Nakano Moonstep! If you'd like to learn how to flamingo go to PitBar and have Ban This, Saigan Terror, GxFxFx, Bad Erykah, and Cal show you how. Or you could go to Moonstep to see Poison Arts and Ryuketsu Blizzard rip it up along with Punishment For Barbarian, CxPxS, Dustpan and Todestrieb.
We'd like to give a special birthday boy shout out to a special friend of Kaala's! El Puente's owner Shiggy has a birthday coming up on June 4th. To celebrate, El Puente is having a birthday bash on the 3rd featuring Disaster, Social Porks, Baumkuchen, Floaters and GLG. From everyone at Kaala, happy birthday, Shiggy!
Sunday
The party doesn't stop until Sunday quits so go over to Waseda Zone-B and catch a face full of Hazard, Outsider, Bullets, Infraction, The No-Futures, Hat Trickers and Foolishness. Or go to Shibuya's Ruby Room and enjoy the sounds of Granule, Doomboys, Himo and FRIENDSHIP.
You're going to die someday so make sure to live a little this weekend.
Friday, June 2nd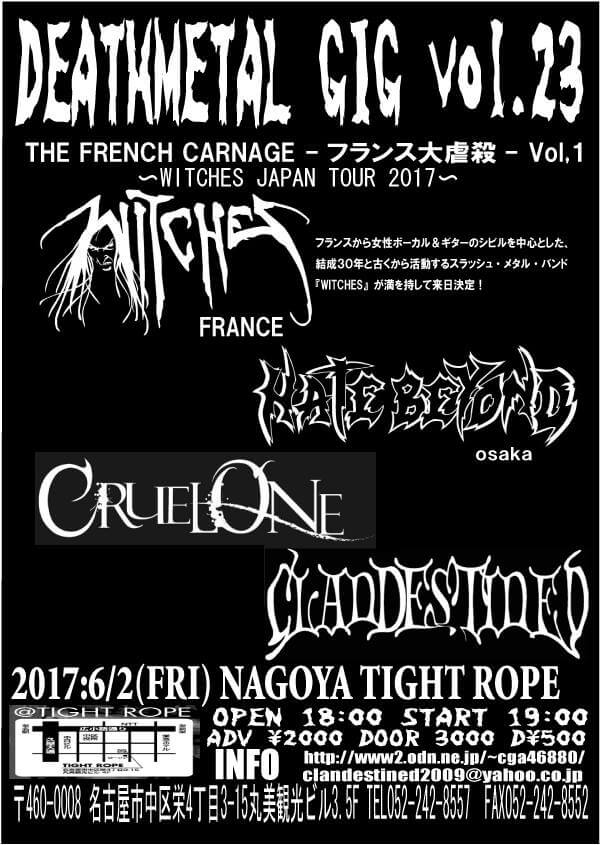 Death Metal Gig 23
Fri, Jun 2 2017
7PM - 10:30PM
SCUMPUTER -EVIL GREASY FACE- RELEASE PARTY
Fri, Jun 2 2017
7PM - 10:30PM
Saturday, June 3rd
Sunday, June 4th