A Bizarre Bazaar with Gifu's Black Market
Doom has grown increasingly popular all over the world, and it was only a matter of time before the Japanese underground started to catch the bug. Some legendary Japanese bands such as
Church of Misery
and
Corrupted
are well known in Doom and Sludge circles, but for the most part it's still a growing part of the scene as a whole. Recently, popular acts such as
Sithter
,
GUEVNNA
,
Begrabnis
, and
Nepenthes
have been paving the way for the genre. We are starting to see more and more Doom oriented shows popping up, which is definitely a good thing. I first heard of
Black Market
earlier this year when the "Screaming of Madness" music video showed up on my news feed. The heavy, dirty, and plodding introductory riff had me hooked from the beginning and I was looking forward to hearing more of what they had to offer after getting a taste.
Hailing from
Gifu
, the three-piece consists of Nuco on guitar and vocals, Hiroshi on bass , and Hirotake on drums. Admittedly, I've never been to Gifu, but it's central location apparently made it a strategic location where many battles were fought in Japan's history. The prefecture was also famous for sword making, which is not entirely surprising given the military importance of the area. But I digress. Black Market was formed in 2007, though their first album
Nightmare Deja Vu
was just released this year. Whatever the reason for the long delay in recording I can only guess, but I do know that Nuca is the only member from the original lineup. Though "Screaming of Madness" has received the lion's share of promo so far, it pales in comparison to the rest of the album. The title track is slow and plodding throughout and Nuco's vocals are a sorrowful alto matching pace with the filthy lumbering riffs and percussion. The guitar occasionally breaks into a solo about halfway through before they drop the floor from out of your feet and bring the tempo way down, teasing a buildup that never materializes before the song ends. "Grief" is a slow nocturne which starts a bit reminiscent of earlier
Anathema
, but even dirtier and heavier when the distortion kicks in accompanied by much groovier guitar solos. The final track, "The Darkest Illusion", is a great finisher with groovy licks and Nuco's voice carrying nicely over the slow march into the darkness in the final moments of the song. Overall,
Nightmare Deja Vu
is, though by no means perfect, a definitely solid debut release. Parts of some of the songs seem out of place at first, but after a few more listens you start to get the impression that this could very well be by design. I can't claim to be an expert on the Doom genre, but I've enjoyed what Black Market has put together for the offering. But hell, don't take my word for it. You can see them play at
Ruby Room on June 12th
with one of our favorite bands, GUEVNNA, and
Sunday Bloody Sunday
. It's a free show (1,000 yen for two drink tickets), so check out Black Market for yourself while they're in Tokyo! You can pick up
Nightmare Deja Vu
at the show, but if you can't make it you can order a copy
here
.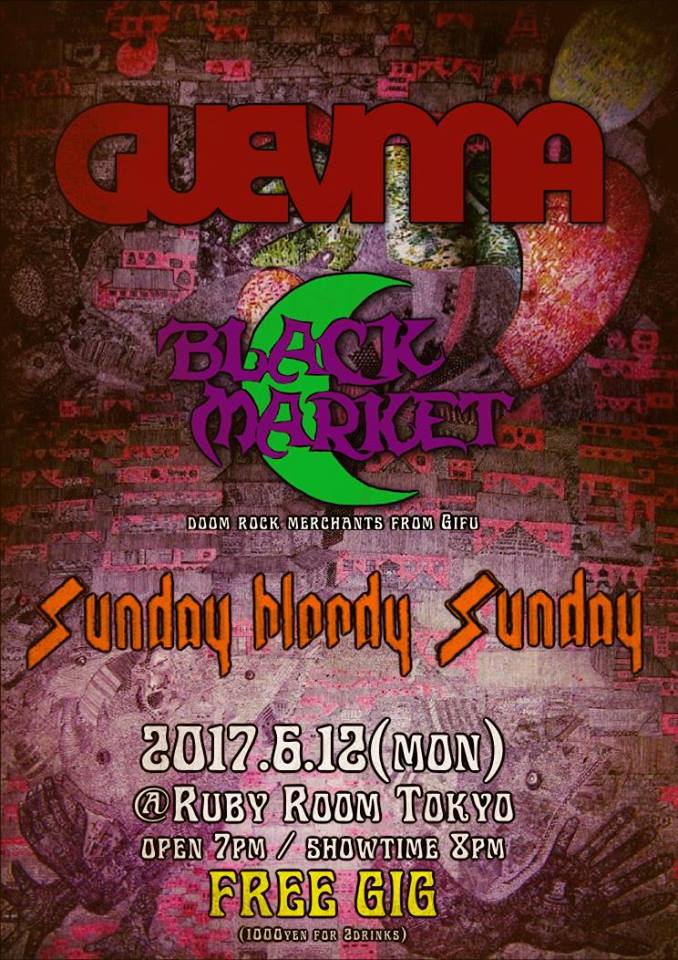 GUEVNNA, Black Market, Sunday Bloody Sunday at Ruby Room
Mon, Jun 12 2017
7PM - 10PM