Weekend Roundup May 26th - 28th
Banner photo by Image Noise
It's getting hotter in Tokyo and that means it's
Cool Biz
and
adult wet wipes time
once again! The 26th is also
Premium Friday
so that means if you are a regular grunt working in Japan you get business as usual while your do nothing, know nothing boss gets to start drinking
shitty beer
from 3:00 pm. Lucky you, wage slave!
You know you could quit your job and go see Kaala's own Jharrod (Jason?) and podcast phantom Daigo destory PitBar as
GxFxFx
. They will kick off the night at 8 and will be sharing the floor with Summer of Death,
The Dead Pan Speakers
and Rockcrimaz. Or you could go to Koiwa Bush Bash (what kind of venue name is that?) and see
Granule
,
Shindahogamashi
and
Encroached
noise the place up.
On Saturday,
Manzer
finishes their Japan tour playing Spiritual Lounge in Sapporo with
Abigail
and others. If you aren't keen to fly out to Hokkaido for the weekend you could wait until Sunday and go to Shinjuku's Merry-Go-Round to see
Hater
,
Doraid
,
Murdiena
and
Casbah
play. We're a big fan of Hater so check them out. There's that or you could go see the always incredible
Self-Deconstruction
play with
FLiPOUT A.A
(Shout out to the homies!),
Apologist
,
Worms' Meat
and 8000 at Nakano Moonstep!
Whatever you decide to do you'll have to go back to work on Monday so get out all that aggression this weekend. Wouldn't want to go to jail for roughing up that bastard boss of yours, would you?
Friday, May 26th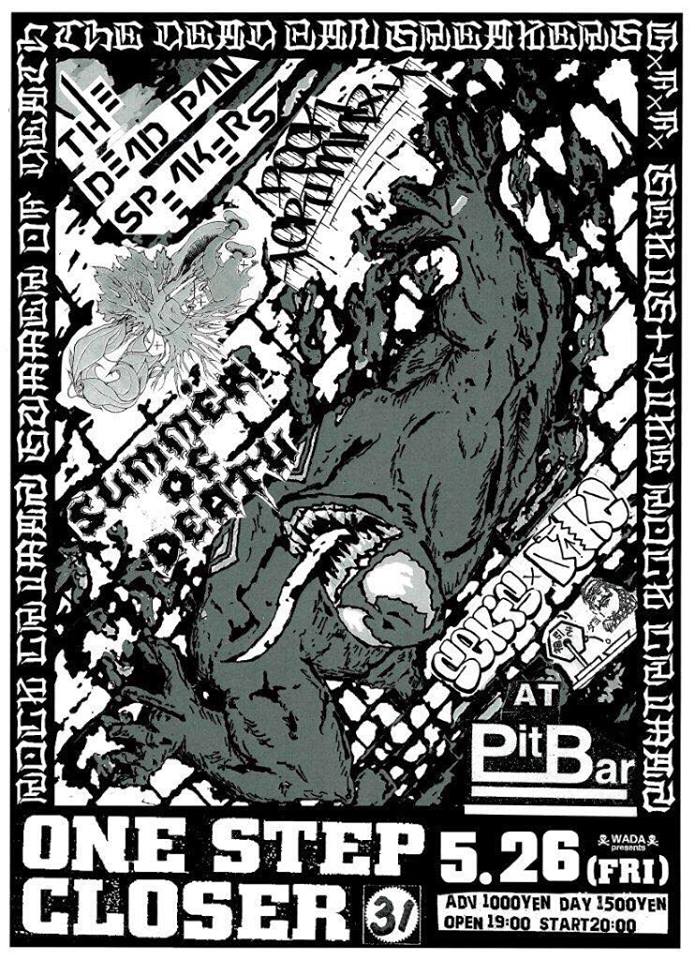 One Step Closer Vol. 31
Fri, May 26 2017
7PM - 10PM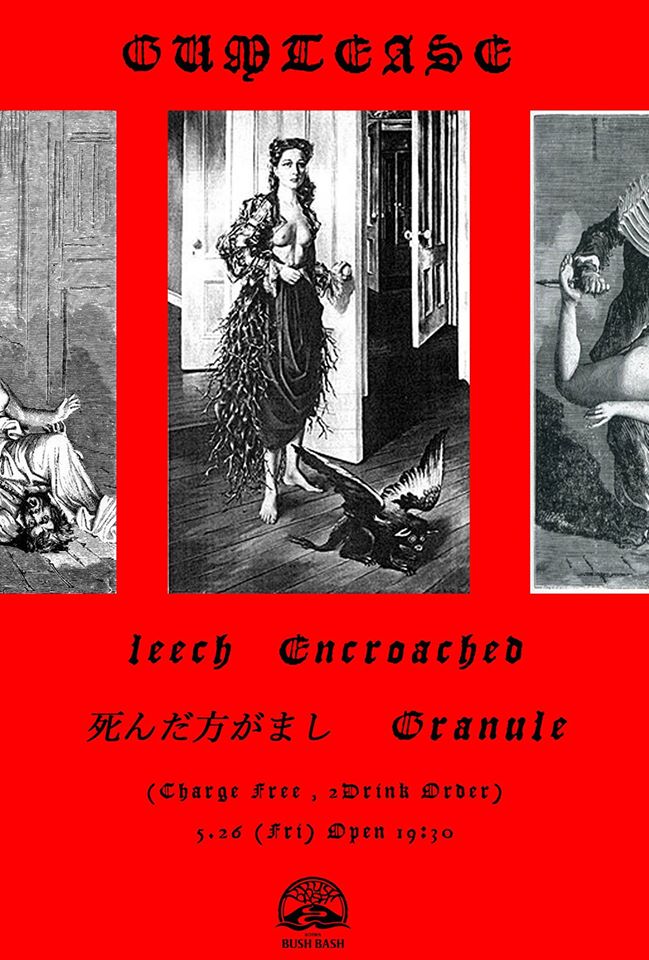 Gumtease / Granule Tour Day 3
Fri, May 26 2017
7:30PM - 11PM
Saturday, May 27th
Sunday, May 28st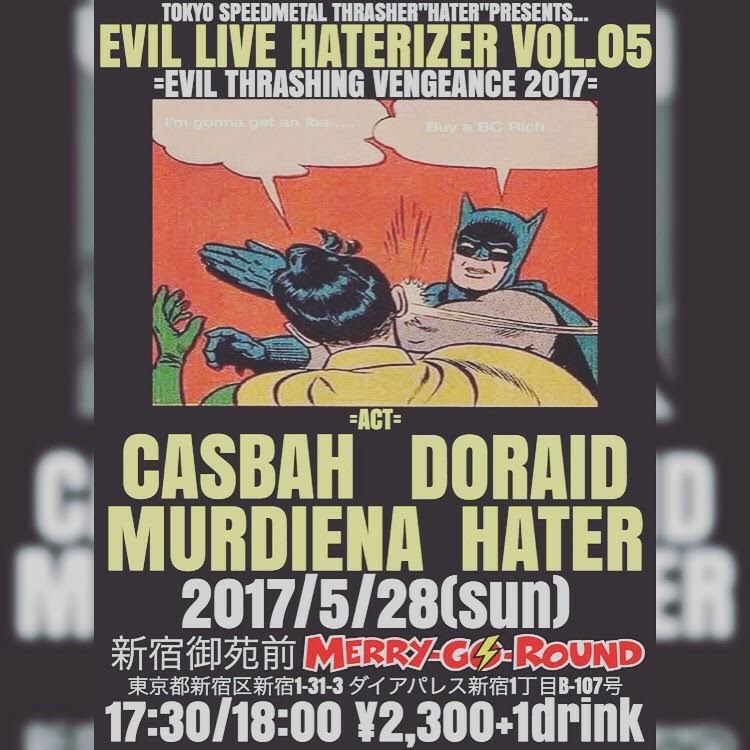 Evil Live Haterizer vol. 5
Sun, May 28 2017
5:30PM - 11PM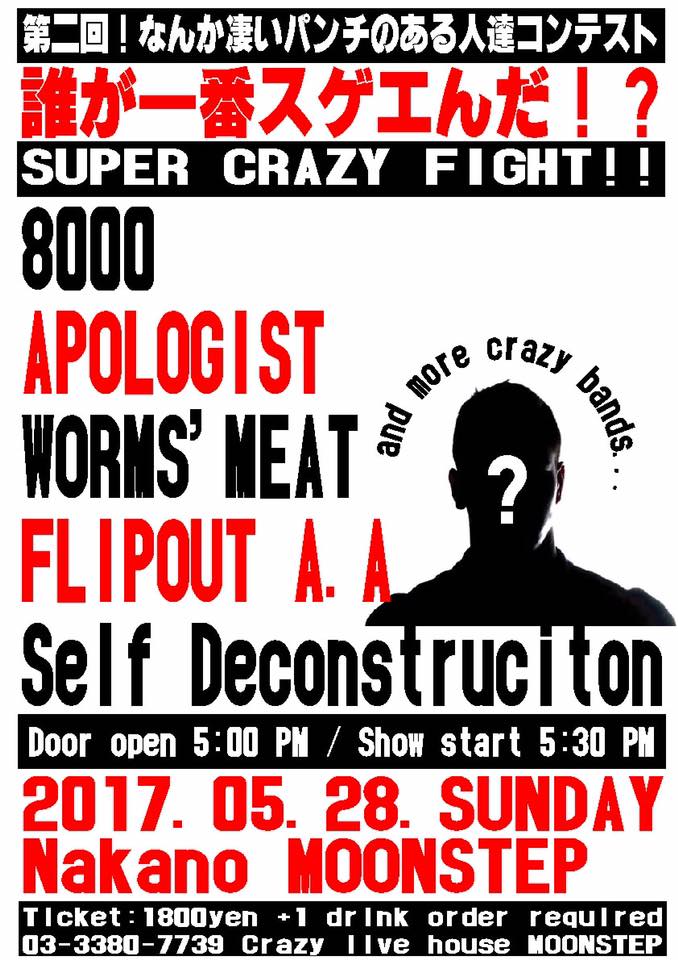 SUPER CRAZY FIGHT!! `VOL. 2
Sun, May 28 2017
5:30PM - 10:30PM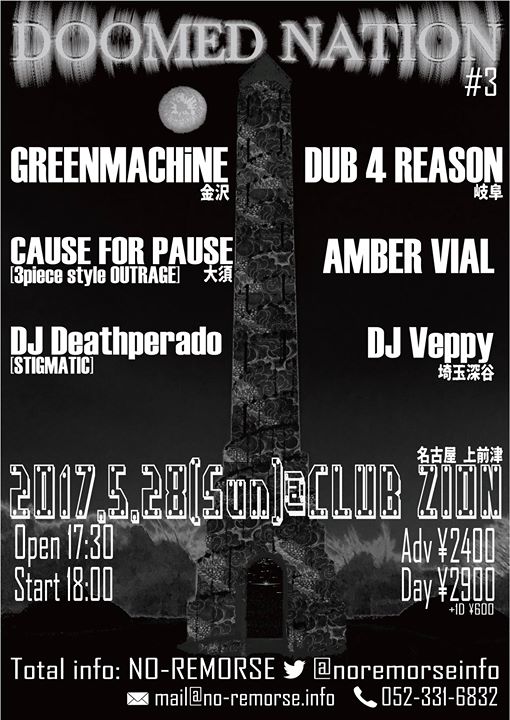 Doomed Nation Vol. 3
Sun, May 28 2017
5:30PM - 10PM