News From the Pit: May 2017
Readers may have noticed that we've been a bit quiet over here the past few weeks. Golden Week was both a reprieve from the daily grind and an excuse to drink ourselves into oblivion. Our followers on Instragram have been enjoying our resident Viking Christians's top picks from our photo library while also getting a taste of the rural life in Japan. Those of us still residing in the hustle and bustle of Tokyo both envy him and miss him dearly. In other Kaala related news, listeners to our podcast may remember Nanami from episode 11 who has now joined the team to help us with Japanese language content! We are psyched to have her on board, and we're sure you all will be as well! Speaking of the podcast, we have a couple new episodes up, so head over to our soundcloud to give them a listen!
Today marks the first of a new monthly feature on Kaala. The News From the Pit column will now feature news of upcoming tours, notable concerts and shows, as well as releases and other news! Being the first article in the column, this one will be pretty damn meaty! So let's get to it!
---
Upcoming Tours and Concerts
Readers and showgoers will already have heard about the Chiens and Nekrofilth tours that have just wrapped up this month. However, two more bands are coming in from overseas, Manzer from France and Catheter from the USA will be blasting their way through Japan to conclude the month of May in the Year of Our Lord 2017.
Last year saw the first year of the new festival Asakusa Deathfest curated by Obliteration Records! For the past month or so, they've been teasing out the lineup one band at a time. So far, it's looking to be an insane lineup that will see Tokyo crushed and destroyed once again! Wormrot (Singapore), Nekro Drunkz (USA), God Macabre (Sweden), Sabbat (Japan), and Viscera Infest (Japan) have all been announced so far! Keep an eye on the Asakusa Deathfest Facebook page and here for the latest updates!
It is also with great pleasure that we introduce our first ongoing show series, The Tower. As some of you may know, "kaala" is sanskrit for death and change. And those inclined to investigate the occult will know that in Tarot, the tower card symbolizes destruction, change, but also liberation Given the current state of the world, our Glorious Leader Matt Ketchum henceforth decided that The Tower shall become a beacon to light the path to whatever the future may hold. For the first edition, we've picked some of our favorite bands from Tokyo and the lineup consists of Anatomia, Butcher ABC, FID, Self Deconstruction, Worship Pain, and one more to be announced!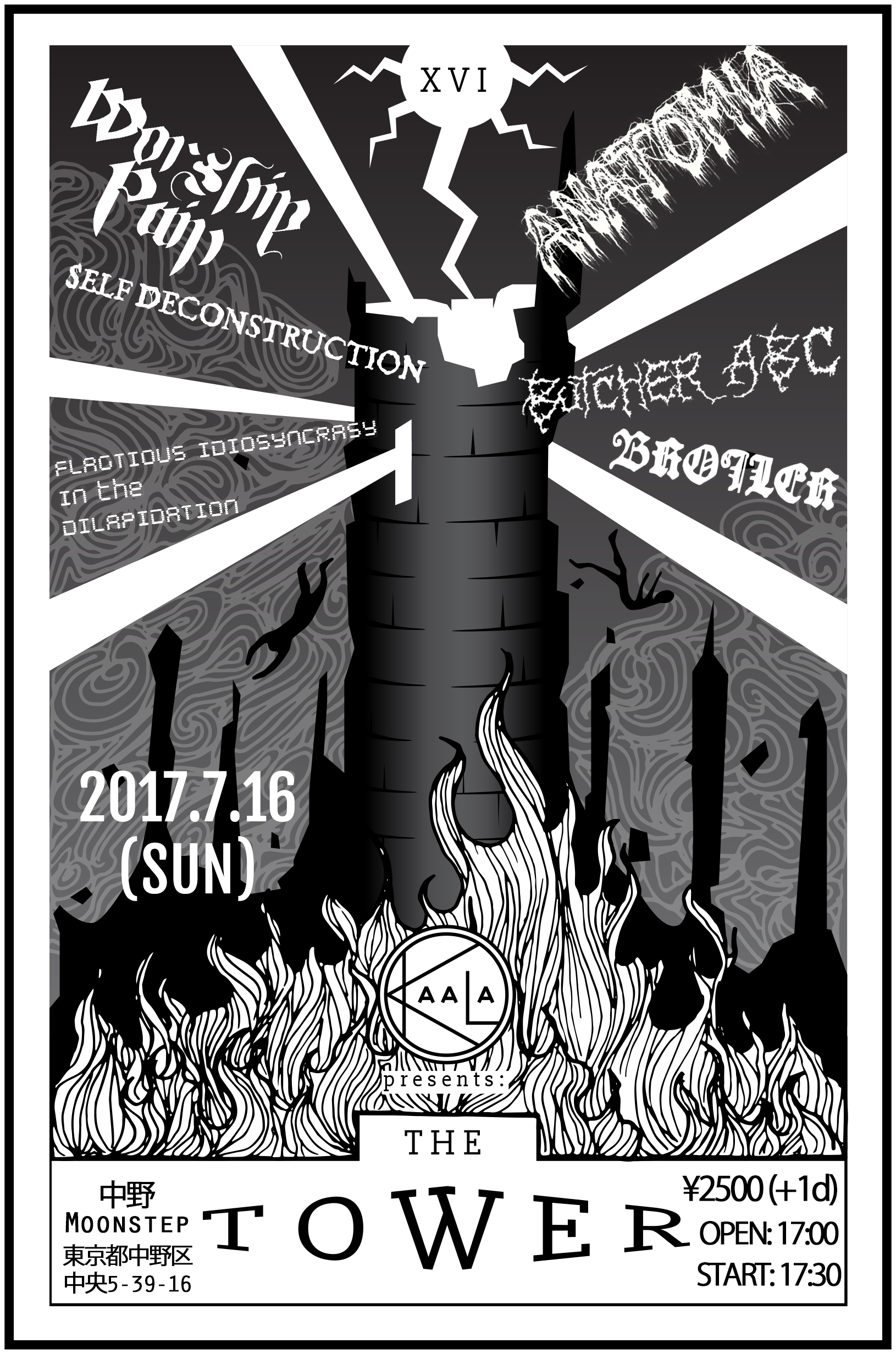 Kaala Presents: The Tower
Sun, Jul 16 2017
5:30PM - 10PM
Keep your eyes peeled because soon we will be announcing a few more shows coming up this year!
---
Releases
Now to the releases coming out of Japan! These aren't in any particular order, but fans of Death Metal, Hardcore, and Goregrind are bound to find something to pique their interest!
First on the list, Hagamoto, the mastermind behind the Goregrind project Patisserie has joined forces with Ivan of Radiation Vomit and Malpractice Insurance to form The Men's Toilet. Playing disgusting and dirty old school Death Metal, their first demo CDr can be obtained on Bandcamp!
The following is a band that's pretty near and dear to my heart. Broiler was one of the first bands I saw live in Japan and their vocalist Kousuke is one of the nicest dudes you can meet. Anyways, Broiler has just released a new split with the Emoviolence inspired Hardcore band Trikorona! Pick up a copy here at 3LA!
In addition, Grinding Death Metal veterans Butcher ABC have released a new single in addition to a split with Nekrofilth!
Osaka based Death Metal act World End Man has released a new EP which is bound to lay waste to your ear drums. Pick up a copy here!
Another release I'm pretty excited for is Pinworm Puella's free demo! If you like Goregrind, partying, and dancing, you'll love this demo! These guys, among others, are leading the way in bringing Japan into the second age of Goregrind! Pick up the demo on their bandcamp!
Those who enjoy stretching before and after shows and throwing spin kicks will enjoy Fight It Out's new album Most Hated. No lie, the pits at their shows are probably the craziest I've seen at a local show. Absolutely insane and awesome. Pick up their new release here!
Last but not least, and probably the oldest piece of news for this article, The Death Metal 3-piece Anatomia has released a split 10" with Denmark's Undergang. I gotta' say, these two match up well with each other and vinyl collectors are in for a treat. You can pick up the record here and of course pick up each band's side of the split on their respective bandcamp pages.
---
Well that's it for the first edition of News From the Pit! If there is any news that should be on here next month, be sure to let us know! See you in the pit!