November 2016 Playlist Rotation
After a short unintentional break, Kaala's Review Blasts have been retired. But we will continue to preview and spot light some of our favorite releases from Japan's underground in the form of the new monthly installment here. If you're looking for something new or a starting point to get into the vast depths of the Extreme Music scene here, you've come to the right place. This month, myself and our newest member Jordan are highlighting a few releases that spent some time in our playlists last month. Check 'em out below!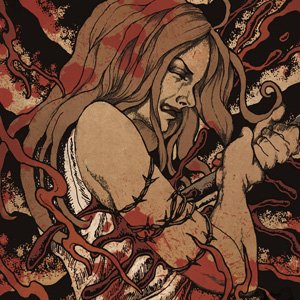 Jharrod: Self Deconstruction has yet again found their way back into my regular play list rotation this past month. Though I had given Wounds a few solid listens after its release, it went on the back burner for a bit as I became consumed with Hater and GUEVNNA's new releases. But this month it came roaring back with a vengeance when the track "No Savior" appeared on my commute shuffle. It's amazing how much variety and discord they can pack into a 50 second track. Going from crusty tremeloes to groovy experimental breakdowns and then to a Djenty sort of closing riff that's over before you know it. So of course, I had to give it a full listen again. Since then it's been the soundtrack of my morning commute.
You may remember a few months back when we previewed their Triad demo that was recorded at the same time as Wounds. Self Deconstruction hasn't failed in their mission to once again bring listeners the tumultuous Free-Style Grindcore and Powerviolence they have become known for in their latest offering. Kubine's vocal range is impressive, going from violent shrieks to angry growls with ease. Kuzuha's guitar work is as chaotic and diverse as ever, while Jiro murders the drum kit with expert rhythmic timing.
Self Deconstruction managed to fit 23 tracks into 15 minutes with "Wounds". Though some of the tracks are cleaned up re-recordings of older songs, the new material is a welcome addition to their discography. Nevertheless, their combination of expert compositions and speed asserts their position as one of the finest Grindcore bands coming out of the Tokyo area today. You can pick up a copy of Wounds here if you're in Japan or by contacting the band directly for international orders.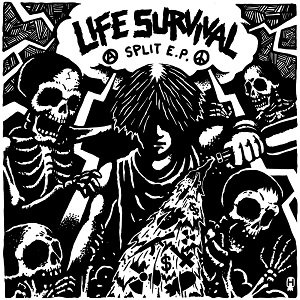 Jordan: The first word on the first track titled "Menschenfiend" of this 7" split from the Hamburg gutter Goth crusties Instinct of Survival and Tokyo's hometown crasher crusties LIFE says it all: Crust.
Themes of disgust for the thoughtlessness of first world hyper-consumption, anger and despair at our leaders' selfishness and irresponsibility and the overwhelming sense that humanity is going to fall off the shelf of existence real soon are all addressed on both sides of the split and show that despite what people like Joseph Corré believe, punk still has something to say to the world.
The I.O.S. side of the split has more of a driving, guitar heavy sound that is pierced by excellent drumming, especially the hi-hat work on "Fading Footsteps." To add to that, Kalle and Padde's vocals are well mixed and full of aggression which is accented by occasional German phrases. I saw these guys for the first time at Kappunk this October and they were one of my favorites by far.
On the other side, the aggressiveness and urgency of LIFE's anti-nuke, anti-war message seems to have seeped even deeper into the music itself. The first track titled "Fuel, Debris, Meltdown" starts off with an almost geiger counter like screech. The drumming, rhythm guitar and bass are dirty and chaotic, but the lead guitar rises above it all with clean soloing which on "Limited Space" almost sounds sad. Hiro's vocals are frantic on "Infinite Madness." He screams with such intensity that I wonder how he can speak at all sometimes.
This is fast becoming one of my favorite records of 2016. On the vinyl copy I bought there was a label mix up so the sides are switched, but other than that the artwork on the sleeve is as well done as it is bleak. It's kind of odd to mention, but the paper the sleeve is made of is also very high quality. I also enjoyed seeing "B. Chebrashka" on the LIFE side of the sleeve. I mean, humanity might be heading towards annihilation at an alarming rate, but that doesn't mean we can't have a sense of humor and some fun before we go, right?
Life Survival can be purchased on Desolate Records' Bandcamp.