Staff Picks November 2016
When the staff pitched the idea of doing a Staff Picks piece every month, I didn't have much faith in them. I imagined they would get bored of it and let it die within a week, and the dozens of dessicated puppy carcasses scattered liberally around Kaala HQ will confirm their inability to take care of anything. I've tried to have the carcasses removed, but the animal control workers are repeatedly harrassed by the unquiet souls of dead dogs. And so am I: every night I hear ghostly howling in the night, and every morning I awake to find scratch marks on the doors and spectral turds in my boots.
Yet here we are, for the second month in a row, and the half-men that work at Kaala have managed to do the same thing two times in a row. Shocking! Yet, somewhere in the US an alcoholic doctor is reading this and feeling a sense of pride that the three abortions he fucked up still somehow learned how to read and write, so I suppose it's all about setting your expectations at a reasonable level. Without any more preamble, let me present the Staff Picks for the month of November in the year of our Lord, 2016.JIM BROADLY
editor-in-chief
AARON
editor, writer, King Bastard
Let's Slam! Fest
seemed like an easy pick at first since it's at Pit Bar, which is very close to where I live, and it's got some bands from Korea like
Scumraid
and
Arryam
that I wanted to check out. But it's also got a lot of grind, and the last show I recommended had a lot of grind, and I wanted to do something different. Fried to the Rainbow was my next choice, but it's all the way in Osaka and also I'm stupid and was reading the calendar wrong because Fried to the Rainbow happened
last
month, and anyway if I'm going out of town for a show it'd definitely be for
Hiroshima Death Fest
on the 19th. Finally I decided my pick for the month of November is
Fuck Off and Die
on the 22nd at Live House Sunrize. I've enjoyed
Lurking Fear
every time I've seen them and I'm excited to see
Barbatos
for the first time. Plus I've never been to Sunrize before, so I'm looking forward to that. Or maybe I'll just recommmend Fuck Off and Die to you, and go to Let's Slam! Fest by myself.
MATT
Kaala's Big Cheese, man-about-town
Good lord this coffee is hot. Unbelievably hot. Face-meltingly hot. Much like my pick of the month, Disgunder's
Blast 'Em All Vol. 10
over at Ikebukuro Chop! Lineup aside (a veritable smorgasbord of Japan's best Grind acts with a very kvlt dash of Black Metal thrown in for good measure). And this may come as a surprise to some, but Chop is, despite being located in one of my least favorite areas of Tokyo, actually one of my favorite venues. This might have to do with me only noticing them when they get good shows, but if there's a bill at Chop with one band on it that I'm interested in seeing, then there are likely 4 or 5 others on that same bill whom I normally wouldn't expect to see paired with that band. IMO the layout's also refreshingly different from your typical
hako
.
JHARROD
writer, resident beard-haver
I was gonna choose
Blast 'Em All Vol. 10
, but then I remembered that I work most Sundays so that will probably be a bust. But goddamn, what a helluva' lineup!
GUEVNNA
is also playing a bunch of shows in November as well, which is also tempting (though I'm definitely hitting up their show with
Hoopsnake
on the 5th). And goddamn do I want to see
Despise You
while they're here, but looking at my schedule I'm not sure I'll be able to make it. So I think I'm gonna have to go with
Grindfest
2016 on this one. Not only will I be working the Kaala beer table there, but it's a brutal lineup. And let's face it, I would go anyways because I haven't had the chance to see
Butcher ABC
play since Anomalous Collision 12. And for those who miss Asakusa Deathfest, it will also be a great opportunity to catch
Carnation
(Belgium) while they are still in Japan. And I will finally see
Asocial Terror Fabrication
! Besides, it's on a public holiday!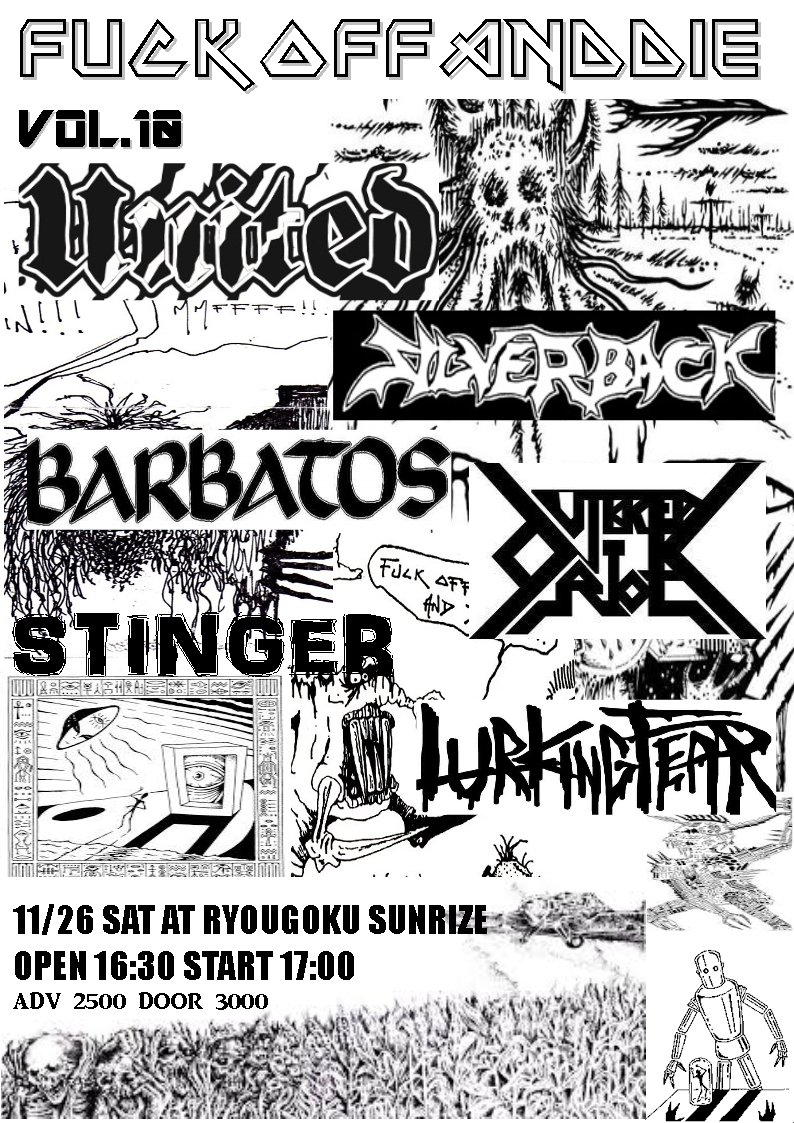 Fuck Off and Die Vol. 10
Sat, Nov 26 2016
4:30PM - 10:30PM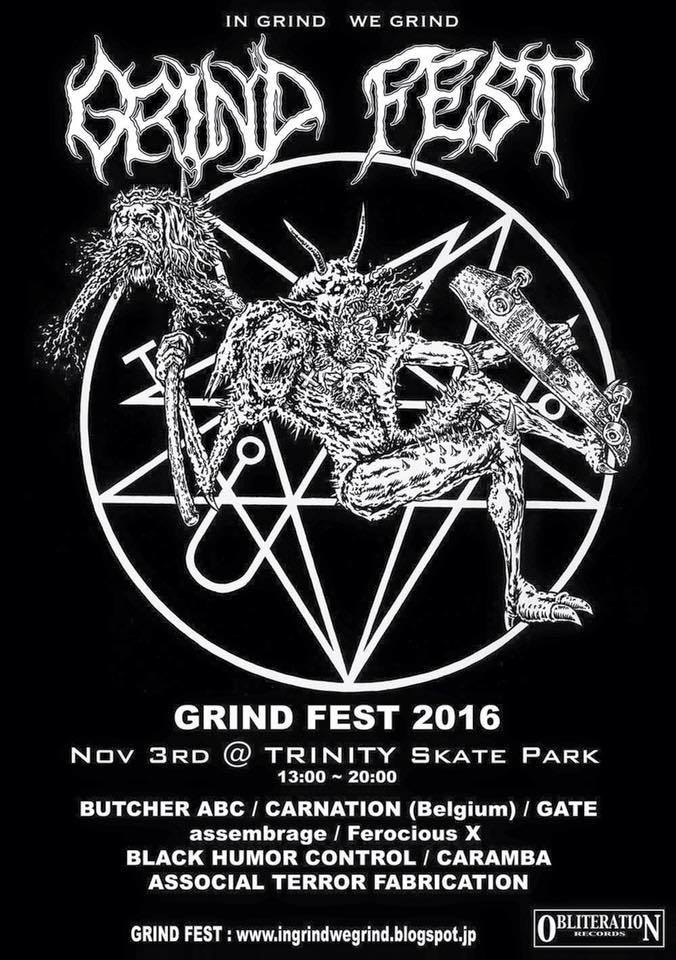 Grind Fest 2016
Thu, Nov 3 2016
1PM - 8PM