Dr. Naru Grindenstein Talks Grind Fest!
We recently sat down with Asakusa Deathfest organizer Naru (Butcher ABC, Asakusa Extreme, Vegan Extreme, Obliteration Records, Galeria de Muerte) to talk about the upcoming 3rd iteration of this most excellent event. Check out the conversation below!
Kaala: What is Grind Fest, and how does it differ from all of the other "extreme" or "metal" events (Thrash Domination, Loud Park, Asakusa Deathfest, Obscene Extreme, etc.)?
Naru: Grind Fest is pretty different from other festivals: it's held in a skatepark, but not a regular outdoor one. It's in a decommissioned warehouse or factory or something, all under one roof. Because it's such a wide open, indoor space, it's totally different from other underground venues and other festivals. Plus, people can skate while bands play which is pretty cool. The whole thing is 100% DIY: we rent and set up the backline, stage, PA, everything by ourselves, and our friends run their own food and drink booths. It's kind of a big "home party". Just extreme music, skateboarding, and fun!
K: This is the third year in a row for Grind Fest, if I'm not mistaken, so I would say that it is now an "established" annual event in the underground. How have you seen it change over the years?
N: I didn't think I'd continue Grind Fest in the first year. But after we did it, I felt I had a duty to continue. Its really hard to explain but I feel that I now have to continue hosting this festival every year - there's an attachment of some kind. I think you'll feel what I can't explain if you attend. There's no other festival like Grind Fest: this is the only one like it in Japan.
K: How do you go about picking bands for the bill? This year seems to feature a good bit more punk influence than previous years - was that intentional?
N: Grind Fest is Grindcore X Skateboard culture. Skating itself is important, too, so yeah, most of the bands that play the festival are bands with at least 1 member who skates. This year, Ferocious X and ATF are playing. Though they aren't Grind bands, some of their members skate, and, you know, their sound's really intense. They're a good fit for this festival, I promise!
K: In addition to the bands playing, what other attractions can the audience expect?
N: Nothing special, but we open up the skate ramps during the festival, so everyone can skate even while the bands are playing.
K: Do you intend on keeping Grind Fest going, and do you intend to grow it at a steady pace? If so, what sort of things would you like to do in the future?
N: I want to invite professional skateboarders and have them demo before the audience.
K: You're booking a lot of big events this year: Grind Fest, Asakusa Deathfest, Asakusa Extreme, etc. Is there some great plan to merge all of these, or do you want to keep things separate?
N: Ummm... in my head.. I don't want to mix up Grind Fest with my other projects. Grind Fest is a more "open" festival for ordinary people. Not only for Grindheads. But if all my festivals were put together, it seems like it'd be a really "big"... something. But I have to get over some shitty problems first haha. I'll talk about it if I have the chance to do it, but for now I'll do them all separately.
K: Trinity Skate Park is a cool venue choice! Do you skate? If not, what inspired this venue decision?
N: Yes, I skate, but I'm such a beginner that I can't say "I'm a skater". When I started skating, I was nearly 40 years old. Its basically too late to start skating, but its very exciting and aggressive so I do it anyway. I do practice a lot but still it doesn't really do anything haha. Anyway, skateparks in Tokyo aren't everywhere. I found Trinity skatepark in a suburb of Tokyo - its easy to access and the owner is a pretty nice guy. And when I saw Trinty first, it hit me pretty hard that I had to do something there!
Grind Fest 2016 Details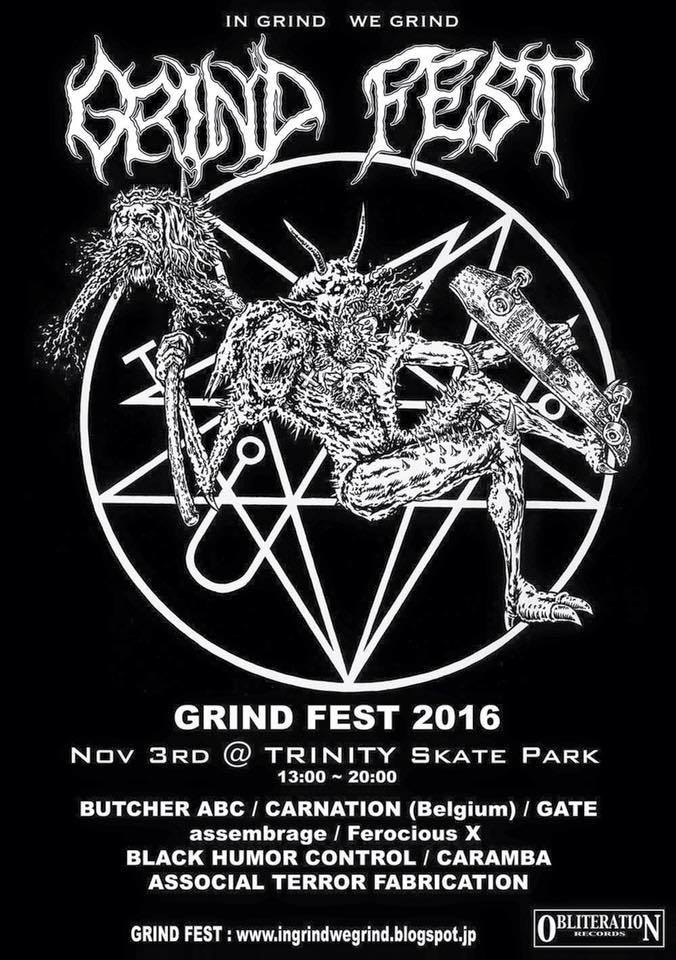 Grind Fest 2016
Thu, Nov 3 2016
1PM - 8PM