Kaala Enters the "Heart of Evil" with GUEVNNA's Latest Release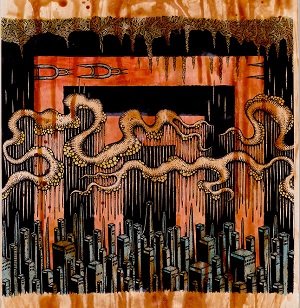 Though GUEVNNA's first EP, Conspiracies still maintained a lot of influence from Stoner/Doom inspiration such as Bongzilla and Iron Monkey, it also signaled a development of their own style of rock and roll. I've seen them listed on flyers with various labels as disparate as "Disco Sludge" and "Hard Rock". The one that caught my eye a few months ago was "Urban Stoner Rock", which I didn't quite understand, but this was before getting my hands on Heart of Evil and the accompanying art work by ANUSTES. I noticed that even though GUEVNNA doesn't publish lyrics, each song has its own unique art card and I noticed a recurring theme: the city. Was the city of Tokyo the eponymous Heart of Evil?
Over a few beers at a local izakaya, frontman and songwriter Ryo Yamada confirmed that the central theme of both Conspiracies and Heart of Evil was indeed Tokyo. The city is a place towards which people from all over Japan strive, whether for work or wealth or pleasure, but many times the dreams of wealth and a fulfilling life find no purchase in the concrete reality of the city. Too many end up working the same shitty job, day in and day out and still barely making ends meet. Before long they've got a thousand-yard stare that almost never goes away, eyes open with nobody behind the wheel. Is their lack of ability to blame for this malaise? Or is this just what the city does to you? Are the modern conveniences available everywhere, the thousand and one pleasures for sale in every neighborhood, the luxuries so many strive to attain merely the lure in a cunning trap? We discussed these topics at length, yet when it came to specific song meanings and lyrics Ryo didn't want to let the cat out of the bag. He wants Heart of Evil to be a unique experience for each listener. "I want people to listen to this album 1000 times and I want each of them to find their own story," he told me. So with this coming straight from the horse's mouth, I'm about to give you my own interpretation of Heart of Evil with this review.
Once again for the uninitiated: once a straight up Bongzilla clone, GUEVNNA has managed to develop their own unique take on Stoner Rock. I've seen them perform live a number of times, and their live show is a mix of the impassioned, kinetic, and thoughtful. Ryo is a charismatic vocalist and frontman often with a cigarette in one hand and a glass of whiskey in the other. The rest of the band is just as invested in the performance. Their lead guitarist Go lays down some incredible solos flawlessly, while their drummer Temi keeps pace. They're essentially fusing elements of Doom and Sludge with Disco, and yes, you read that correctly, mother-funking Disco. According to Ryo, GUEVNNA aims to make music that is not just heavy and dirty, but also danceable.
"Am I into weed like Bongzilla? No," Ryo says adamantly. "Do I want to spread my hatred with a diseased sound, like sludge music? No. Do I want to have the same concept and theme like many doom, sludge, and stoner bands have? No. I love their music but I want to express other things. I love those genres, and also dance and disco music." As most people who have seen them perform (or even just listened to their first album Conspiracies) can tell you, GUEVNNA's genre-fusing doesn't just work, it's as volatile and explosive as poorly-cared for dynamite. One moment there are slow like death riffs with a hint of groove, and the next moment you're shaking your hips and bobbing your head getting down with the dirty and upbeat tunes.
The opening track of Heart of Evil, "Black Ghost", starts off slow and doomy before kicking into some seriously groovy riffs. The percussion keeps pace with Ryo's dirty vocals belting out the lyrics, and that's one thing that needs mentioning before continuing -- though he performed Death Metal vocals in Coffins, with GUEVNNA Ryo has changed things up in a surprising way. He's replaced the deep growls with a style that has a more natural timbre and is, at times, almost subdued. He can (and does) still get aggressive and impassioned, but either way the tone is as stony and dirty as hard-rock-doom-disco deserves.
"Salvation", the second track, ends with a masterful solo from their guitarist Go but it isn't until the title track begins that GUEVNNA's unique style really reveals itself. Right out of the gate it kicks off with an upbeat and groove-laden instrumental verse before exploding into the chorus. When Ryo talked about wanting to make music people could dance to, I think that this song and "Parasitic" are the two songs on this record that really demonstrate that. The Stoner influence is still there, but instead of slow and deep these tracks are super upbeat. It's an interesting juxtaposition to Ryo's rough vocals and dark lyrics. On the reverse side, GUEVNNA shows their roots as the closing track plods along at a slow pace with the licks rising up and then withdrawing with all the sullen, sorrowful hopelessness of midnight waves crashing against a barren shore. But even then, in the last few minutes, just as you're submitting to the darkness, the guitars and drums pick up and Ryo suddenly has energy, like an awakened spirit in the distance, and through the darkness there is a glimmer of light.
GUEVNNA isn't interested in reproducing themes from the respective Stoner, Doom, and Sludge genres. Rather, their lyrics are inspired by conceptual frameworks and story telling that are rooted in the urban reality. The primary song writer Ryo does most of his writing in English and enjoys films and books that have veiled and ambiguous symbolism and endings, so it comes as no surprise that, similar to the artistic mediums that they are inspired by, GUEVNNA's lyrics are veiled in symbolism and metaphor with interpretations that may change from listener to listener, creating a deeply personal experience.
Overall, Heart of Evil is an evolution of the sound that GUEVNNA set out to define when they recorded Conspiracies. It's been solidified into a full length album that blew away my expectations, an album in which they've managed to fuse together elements of the genres that first inspired them with the addition of upbeat Disco. Is it Doom, Stoner, Sludge, or Disco? No, but it is some damn fine rock n' roll that brings the dance party to the head bangers, and that's a helluva lot more interesting anyway.
Heart of Evil will be released on LongLegsLongArms records on October 21st and you will be able to pick it up on the label's website and Bandcamp.