Kaala Presents Blood Rite XII: A Lunar Ritual in Nakano
Back in April, I had the pleasure of writing my first show report for Kaala. The event? Blood Rite XI, which turned out to be an unforgettable experience. Looking back, it's been a great ride with the team and we're just picking up steam. And I gotta' say, it's been really cool to watch Blood Rite organizer Matt Ketchum put this together from the inside. But enough about me, it's time to start talking about the next ritual.
If you've been keeping up with the podcast, you know that Funeral Sutra will be releasing their new album at Blood Rite XII on September 24th. Personally, I'm really looking forward to this one. Their sound can be at times introspective and at others primal and destructive, blending seamlessly together into some truly primordial Black Metal. They've kept the lid sealed pretty tightly on their new album, but one track, Grace, has been released - you can check it out on this episode of Kaala Radio. The rest of it is a mystery, set to be unveiled next weekend!
Joining them will be Sendai's funeral doom three-piece Begrabnis. The cultists and specter vocalist will ensure the sacrifice is primed for burial. Also joining the ritual are Japanese Black Metal veterans SSORC bringing their rage to anoint the eldritch proceedings. Khola Cosmica will perform a set of their psychedelic doom to ensure the audience is mentally ready to step through the portal without going insane. And Crucem will also make an appearance to invite the Old One's to bear witness with their haunting and violent brand of Black Metal.
What a lineup! If you're into the darker and doomier aspects of Metal, this isn't a concert to be missed. All of us at Kaala will be there to welcome you and guide you to the other side. The full lineup and details are below. See you there!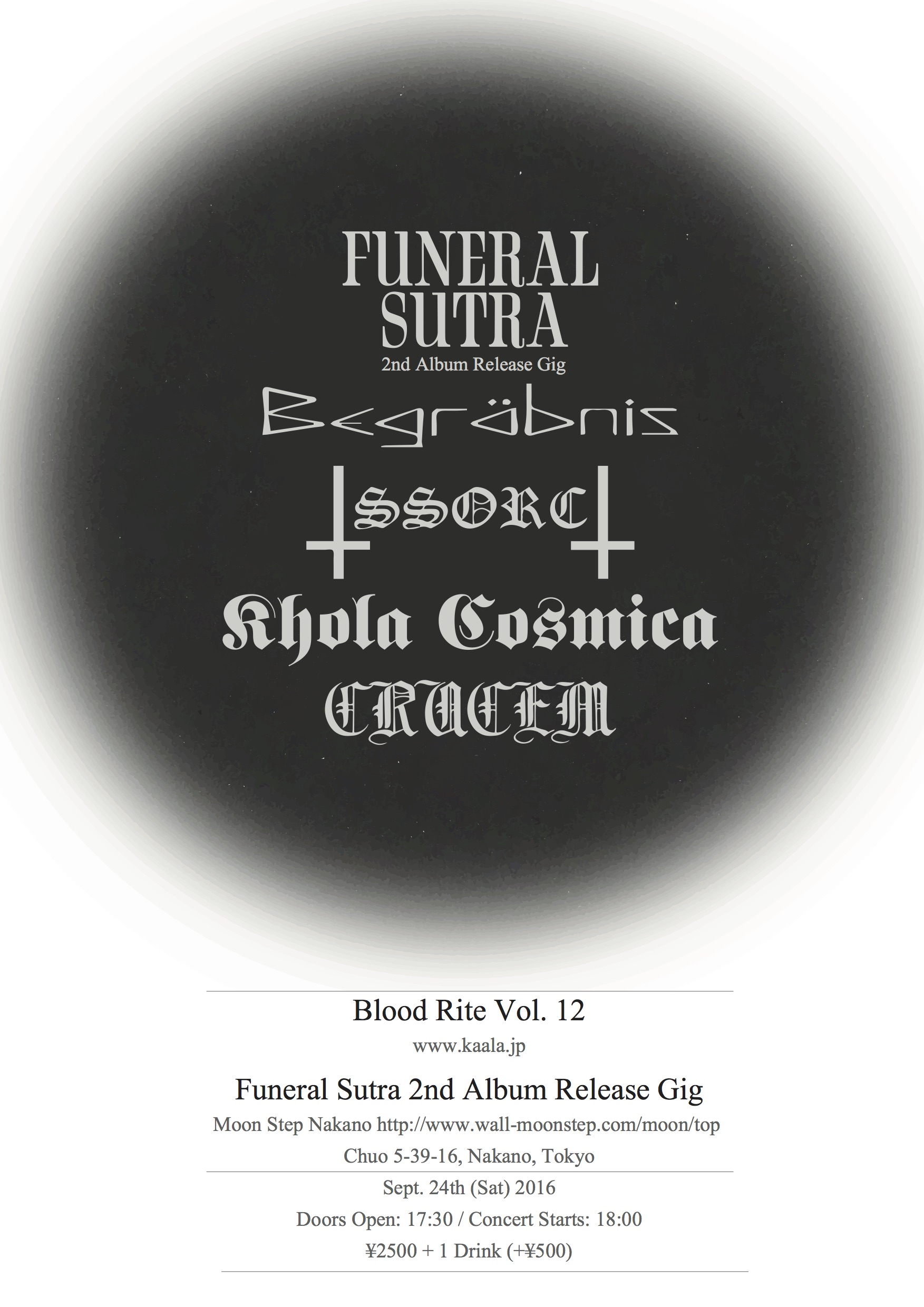 Blood Rite Vol. 12
Sat, Sep 24 2016
6PM - 10:30PM