Obliteration Records Presents: Asakusa Deathfest 2016
Arguably, Obscene Extreme Asia 2015 was one of the best weekends of the year and many of us were sad to hear that it was going to be the last. For four days, bands and fans from all over the world converged on Kichijoji's Club Seata and Asakusa Kurawood. Friendships were forged in the sweaty mosh pits and the beer flowed freely. My hangover lasted well into the following week accompanied by the remaining high from all the amazing sights, sounds, and conversations I had. But alas, it was not meant to be again.
Or was it? Obliteration Records recently announced the inaugural Asakusa Deathfest that will be held October 29th and 30th. Though the lineup isn't as extensive as OEFA's, for a first year festival, both days are shaping up to be pretty killer with bands from all over the world on the roster. If you're planning a trip to Tokyo this year, Asakusa Deathfest is definitely a good reason to make it out at the end of October. Advanced tickets can be purchased over at the Obliteration Records Shop!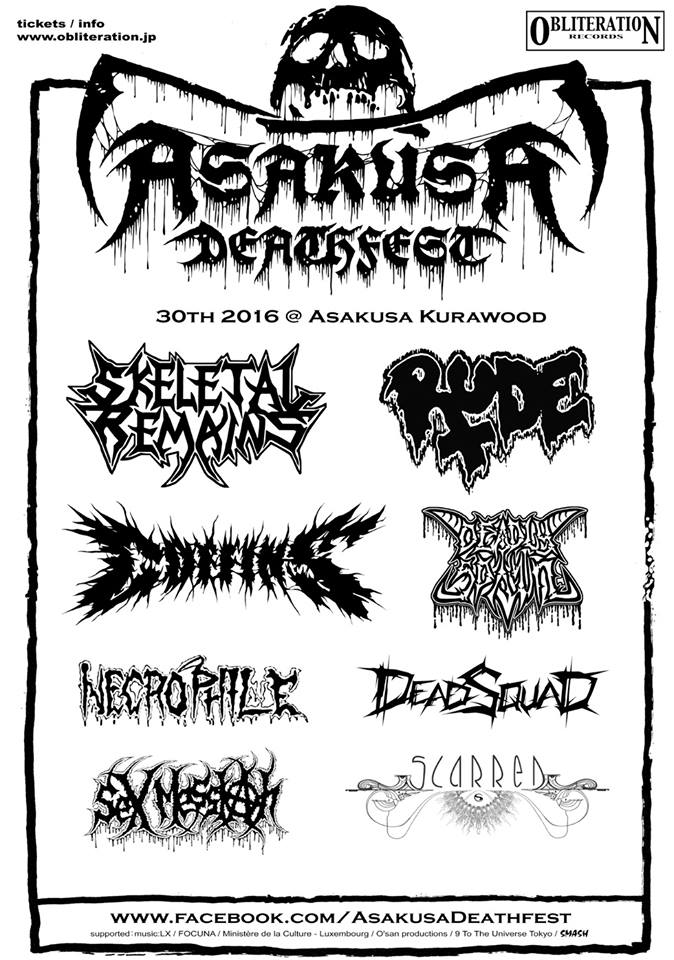 Asakusa Deathfest 2016 Day 2
Sun, Oct 30 2016
2PM - 10PM
That's it for this update! We got more shows and tours to report on soon, so be sure to check back soon for more on what's going on with Japan's extreme underground! See you in the pit!